There is lots of debate and confusion between Bilstein 5150 VS 5160. Some users recommend the 5150 series and some of them find real value in the 5160 series. Undoubtedly, they are impeccable and outstanding for their top-notch performance. The common but thinkable difference between these two is the reservoir. Bilstein 5150 is a crossflow piggyback reservoir shock. On the contrary, the 5160 is a remote reservoir shock.
Today, Bilstein is the name of reliability and confidence. They have been producing car suspension parts for a long time. Now, they are becoming more popular worldwide. However, in this article, you're going to see the differences between the two Bilstein shocks in detail.
Bilstein 5150 Vs 5160 With a Table

| | | |
| --- | --- | --- |
| Content  | Bilstein 5150 | Bilstein 5160 |
| Manufacturer  | Bilstein | Bilstein  |
| Made-in/country of origin | The USA and Germany | They originated and are made in the USA. |
| Item weights | Around 8.1 pounds | 4.6 pounds |
| Piston Size | The piston is huge at 46mm highly working piston | 46mm |
| Rod Size | 10 to 14 inches | 14mm |
| Collapsed length | 20.37-inches or 517.5mm | 15.91 inches |
| Extended length | 34.9inches or 886.5mm | 27.46 inches |
| Adjustable Height | The adjustable height is around 0 to 2 inches. | It has 0 to 15 inches lifting height in any compatible vehicle. |
| Finish  | Platinum powder coating | Zinc plated finish |
| Compatibility  | Specially designed for 4-wheeling vehicles like lifted trucks, jeeps, and Pre runners.  | All-time best off-road racer world shock than any other shocks. It is also suitable for rugged, stony, and uneven roads. |
| Road conditions | All-time best off-road racer worlds shock than any other shocks. It is also suitable for rugged, stony, and uneven roads. | These shocks are the best for off-road, flat gravel roads, and on-road with some potholes. |
| Construction Materials | The premium rust-proof steel body with the platinum powder coating shock prevents corrosion and monotube nitrogen gas pressure construction makes them durable. | The body is made of steel with a zinc-plated finish. The billet Aluminum reservoir clamp protects from sludge and garbage. |
| Performance  | It has an advanced and upgraded split-valving and a permanent cross-flow reservoir. These features allow the shock to provide optimum performance all the time. | They have a unique digressive valving system that produces full damping capability to enhance overall performance.  |
| Reservoir variants/ shock types | The series 5150 is a piggyback cross-flow reservoir shock | These shocks are remote reservoir shocks. |
| Adjustment  | They feature an adjustable shock mount that allows infinite reservoir position. | They come with lifted vehicle support that adjusts easily. |
| Price  | The price range of these shocks starts from almost $120. Considering the overall aspect, its value is slightly less than its opposite. | The average price of these series shock absorbers ranges from $199 to $328 which is slightly higher than its counterpart. |
Bilstein 5150 Vs 5160: Main Differences
To know deeply about the distinctions between 5150 VS 5160 shocks, take a look at some features.
Design
All the things in this universe have different designs and features. There is no exception in these two shocks. When talking about design, they are far away from each other. The 5150 series shock absorbers feature an advanced and modern split valving design that provides pretty good performance.
On the other hand, the 5160 series front position shocks feature a gas-charged design with a non-Coilover smooth body. They come with an upper mount kit and a reservoir mount kit.
Reservoir variant
The reservoir variant makes a huge difference in many cases. Also, reservoir shocks make riding more peaceful and pleasant. However, the Bilstein 5150 series shock features a permanent cross-flow piggyback reservoir that allows the gas to flow dramatically faster.
On the contrary, the 5160 series shock has a remote reservoir feature. Shocks with remote reservoirs help to prevent unwanted speed, and sudden bounce, and increase fluid capacity. It also allows the shock to minimize high temperatures and delivers fade-free riding over rough terrain.
Finish
This is the most important object when choosing high-quality and durable shocks. Anyway, the 5150 shock absorbers are finished with a platinum powder coating. The body of these shocks is made with corrosion-resistant steel is a bonus.
If you look at the 5160 series, you can see the body is made of rigorous steel with a zinc-plated finish. As a bonus, these shocks have a billet Aluminum reservoir clamp that protects them from sludge and mud.
Compatibility
Different shocks come for different applications. The 5150 shock absorber is applicable with all 4WD vehicles like Jeep, light-duty trucks, lifted trucks, and forerunners. In contrast, if you have trucks, SUVs, and lift-height vehicles, you can go for the 5160 series.
Monotube design
Though both shocks are monotube shocks, their functionality is different. This feature allows the shock to maximize heat dissipation and shock life. In addition, this series shock has an over-volume and oversized collar that allows the use of all-embracing shock boots.
Counters, the Bilstein 5160 has also a monotube design that has the highest and impeccable damping ability. Additionally, it provides the best ride quality and decreases your hassle while installing.
Adjustability
The 5150 series is a highly adjustable shock with an adjustable shock mount. Plus, the 46mm working piston and self-adjusting and self-regulating deflective disc valving features allow attaching the shock properly.
On the other hand, the 5160 series has also a unique digressive valving system that produces full damping capability as soon as possible. With this feature, it can be said these are fully adjustable shocks.
Road conditions
The 5150 features a high-pressure nitrogen gas which is almost 360 psi and a floating dividing piston. With the fixed cross-flow reservoir design, it is highly applicable in off-road conditions and rough terrain. You can drive the vehicle even on rough surfaces, and potholes while creating less on tires.
Contrarily, the opposite shocks offer high performance on off-road, flat gravel roads, and on-road with some potholes. It is highly capable of performing incredibly in the harshest conditions.
Expenses
The price between these two shocks makes a huge difference. In pricing, the 5150 series is less expensive than its counterpart. The price of the 5160 series ranges from $199 to higher. But if you look at the price of the 5150 series, you can see the price is not more than $200 on average.
Pros and Cons Of Bilstein 5150
Bilstein's 5150 shock absorber is an excellent choice for lifted trucks and SUVs. It provides a smooth, comfortable ride on the highway while also delivering superior off-road performance.
The Bilstein 5150 is a monotube design that features a large-diameter piston and high-pressure gas charge. This allows it to provide more consistent damping regardless of temperature or terrain. The monotube construction also dissipates heat more efficiently, which results in a longer life and cooler operation.
The only downside to the Bilstein 5150 is its higher price tag. But overall, it's an excellent shock absorber that delivers both on-road and off-road performance.
Pros and Cons Of Bilstein 5160
Bilstein 5160 shocks improve the stability and control of a vehicle under high-speed conditions, making it less likely to fishtail or lose traction.
They also reduce body roll in turns, improve steering response, and enhance the driver's ability to maintain directional control. In addition, Bilstein 5160 shocks provide a smooth and comfortable ride on rough roads and over bumps.
One potential downside of Bilstein 5160 shocks is that they can be more expensive than some other brands. They may also require occasional adjustment or replacement if used extensively on rough terrain or in very hot weather conditions.
Bilstein 5150 Shocks – Best for Regular Drivers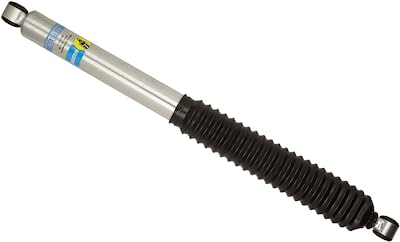 If you're looking for the shocks for your rock crawler, then don't hesitate to choose these. These shocks offer traditional Bilstein technology that is compatible with both heavy-duty and light-duty trucks and pickups or even jeeps.
These shocks feature the first production monotube, high gas pressure, and permanent crossflow piggyback reservoir for extending oil capacity. Nitrogen gas pressure designed to shock reduces extreme heat for increasing ride quality.
Bilstein B8 5160 – Best for Off-road Drivers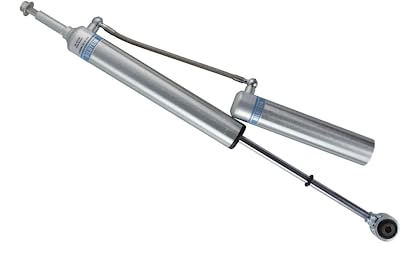 If you are looking for rigorous and high-quality shocks for serious off-roading, choosing these shock absorbers doesn't ruin your investment. With plenty of mind-blowing features and enthralling triple-C technology, they deliver optimum performance even on uneven surfaces. However, original quality shocks have 360 degrees of rotation. These shocks allow you to ride effortlessly and risk-free even on stony or gravel surfaces.
Conclusion
No matter what car or vehicle you ride, if shocks are bad all the systems will be bad. Quality riding mostly depends on the perfect and quality suspension parts. Both Bilstein 5150 VS 5160 shocks are off-roading shocks. But they are not similar in many cases. If you need to go for a long off-road journey, you can go for the 5160. But if you have a passion for riding off-road continuously, you can go for the 5150 shocks. Moreover, the 5150 has a unique cross-flow reservoir whereas the 5150 has a unique remote reservoir.
Read also: