So, here's the deal: Bilstein 5100 VS 6112. You've got two awesome shocks that do exactly what your heart desires: take on all sorts of driving conditions with ease and provide a smooth ride every time. But they're not alike at all. In fact, these suspension systems have some significant differences between them which will be highlighted today.
The main difference between them is they come to fit different vehicles and for different drivers. Bilstein 5100 is for regular drivers whereas the 6100 series is compatible with off-road conditions. Likewise, they are different in the price range. Another significant distinction is the finish. The piston diameter of the 5100 is 46mm. On the contrary, the 6112 has a piston with a 60mm diameter. There are plenty of subtle differences between them.
If you want to invest your valuable money in the right place, read from the beginning to the end of Bilstein 5100 VS 6112.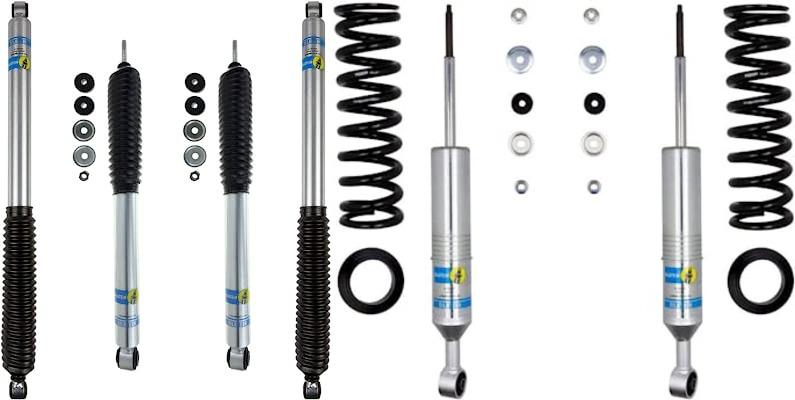 | | | |
| --- | --- | --- |
| Basis of comparison | Bilstein 5100 | Bilstein 6112 |
| Brand | Blistein  | Blistein  |
| Item weight | 22.5 pounds | 55.9 pounds |
| Product Dimensions | 10 x 10 x 30 inches | 7.78 cm x38.1 cm x91.44 cm |
| Built-in | It is made in the USA or Germany | USA |
| Piston size | 46mm  | 60mm |
| Shaft diameter | 1.95" | 2.65" |
| Rod size | 14mm | 18mm |
| Position  | Front  | Front  |
| Road conditions | Provide better ride performance in an off-road excursion on the holidays. | Sensational addition for both on and off-road worlds. You can enjoy better riding in all conditions. |
| Adjustable height | It has a 1", 2", and 2 ½" stock ride height | It provides 0 to 2.75" of front lift. |
| Construction  | The body material is made of rust-resistant Aluminum with a zinc-plated finish. It is made with chrome-plated steel. | The body of the 6112 shock absorbers is made of steel with a zinc-plated finish. |
| Color | Silver or yellow | Black  |
| Perfect addition for | It is capable of holding a minimum of 900-1000 lbs loads. | These shock absorbers are a great addition to late-model SUVs and trucks. |
| They are the perfect addition to original off-road vehicles like SUVs, lifted trucks, and light pickups. | It can hold up to 1500 lbs load easily. | It is capable of holding a minimum 900-1000 lbs loads. |
| Performance  | They provide the utmost and enthralling performance for towing, and excellent performance in off-road worlds. | It is a very responsive unit that works in aggressive terrain, or under heavy loads. |
| Best for | Great shocks for off-road driving, affordable price, and tremendous performance. | It is the latest off-roading, heat resistant, superior dampening, and variable adjustable heights. |
| Life expectancy  | It can last up to 70k miles without damaging and dampening. | It can last more than 75k miles effortlessly with maximum performance. |
| Design | It utilizes a monotube design with a 46mm fine-polished piston. | It has a monotube gas-charged design with a 60mm long super-painted piston.  |
| Warranty | It offers a limited lifetime warranty | It also offers a limited lifetime warranty |
| Adjustability  | Smoothly adjustable and direct-fit installation. These shocks come with OEM Coilover springs and mounting hardware that allows you to install them easily. | The B8 series shocks are equipped with an adjustable spring seat for better adjustment. |
| Including materials, | Load Capacity | These shocks include rubber bushings, bearings, and valve shims. |
| Expenses  | It is an affordable and low-range budget shock than its counterparts. | The price is slightly higher than the 5100 series. |
Bilstein 5100 Shock Absorbers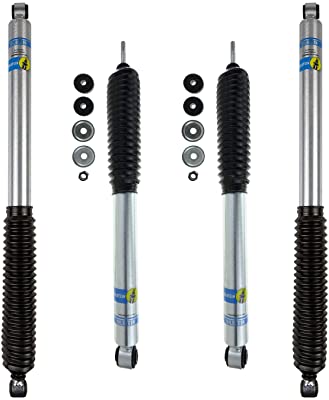 Bilstein 5100 series shocks have been proven to be the perfect addition for off-road and regular drivers. The utmost tow capacity combined with its variable ride height make these units unique, but there's more than meets the eye when it comes to Bilsteins' performance.
Bilstein produced these shock absorbers with advanced technology and some mind-blowing features. It features a perfect ride height, simple right height adjustment, monotube design, construction, load capacity, ride consistency, and many other features.
Monotube technology
This edition will take your riding experience in off-road traction to another level. The shocks are engineered with monotube technology that delivers the utmost damping power. As A Result, it improves handling, braking, consistent ride, and long-lasting service.
Rigorous chrome piston rod
These shocks are made with a super-finished chrome-plated wide-surface piston. The rod size and shaft diameter are in standard size. Shocks with the highest peak-to-valley measurement are called Blistein 5100. Hard and corrosion-resistant chrome-plated piston rod makes them durable.
Standard size
Blistein 5100 series shock absorbers have a 1.95" body size and 14mm rod size. With respectable and standard-sized shocks, they adjust perfectly in lifted trucks and light pickups or vans. Also, the chrome-plated piston size is 46mm which is also standard.
Perfect ride height
They are designed to level out the front of light trucks and SUVs. They are really amazing in terms of ride height adjustability. These shocks use the vehicle's OEM Coilover springs and mounting hardware.
Self-adjusting digressive valving
It has a digressive piston that adjusts hassle-free. This self-adjusting valving allows you to handle and brake like a pro rider. These front positioning shocks provide quality performance and enhance the performance as well. Since it adjusts automatically, you can complete your job easily. It may change the ride's nature but shouldn't make it feel difficult.
Internal and external materials
The 5100 series shocks are made of an Aluminum body and zinc-plated piston finish. Moreover, the rod is made with smooth chrome-plated rust-proof steel. The inside components are manufactured by using real tolerances and sensational materials. It features a high-pressure nitrogen gas charge that reduces and prevents heat to extend life expectancy.
Superior control
With these shocks, you can control your car like a breeze. A highly flowing piston increases sharpness and accuracy. It has a respectable and larger workable piston area that maximizes damping capacity. With OEM-certified mounting hardware. Additionally, they are capable enough to control big tires and lift kits.
Variable height options
Besides increasing riding performance and better dampening, these shocks come with three different adjustable liftings. The height options range from stock 0" to 2.5". But it depends on the application and OEM-grade hardware.
Warranty
They offer a limited lifetime warranty against defects and early failure. So no doubt, it is reliable and trustworthy to buy.
Easy-to-install
With the pack, they include all the special and needed accessories to make installation easy. The installation is as simple as you can imagine. The shock boots are included. In addition, washers, bushings, and nuts are included.
Why are Bilstein 5100 shock absorbers the best?
The 5100 series absorbers are best for, especially for regular off-road drivers. In terms of the installation process, loading capacity, off-driving, pricing, and performance, they are the best choice for many.
The performance of this individual shock is really mind-blowing. They provide superior performance even on uneven surfaces. Also, they offer high-mileage durability. It features a patented monotube gas-charged design that protects the shock's body from excessive heat and dissipates more efficiently.
In one word, this shock absorber is superb in the off-road racing world. No matter which surface you drive, whether it is potholes or sludgy areas, it can provide the utmost performance.
The load capacity rating is 5 out of 5. So there is no doubt about the load capacity. It is capable of handling a bulk load at a time.
Pros
Monotube gas pressure establishment.
Made in the USA.
The working piston is larger for better damping.
Perfect shock for towing.
Digressive valving system to respond quickly.
The silver coating design increases the shine.
Used high-pressure nitrogen.
Affordable and reliable.
Cons
These shocks are not for on-road worlds.
It can wear out early.
The Bilstein 6112 Shock Absorbers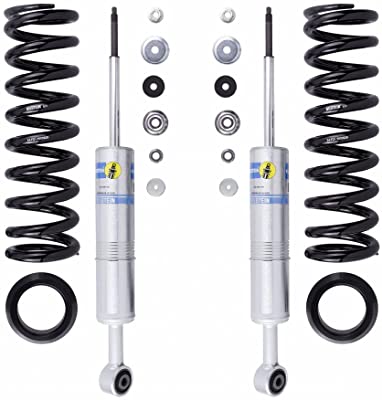 Another high-quality and high-performing on all types of conditions shock is Bilstein 6112. Truly, Bilstein is a reputed and well-known suspension maker in the world. Maybe you are one who is a serious and crazy rider. If you love to ride off-road and on the highway, you can choose these model shock absorbers. It has an extra-large piston and shaft diameter. With these, it performs like a giant. It can handle bulk work spontaneously and provide you with a rough ride as well. To know more about them, take a look at their mind-blowing features and benefits.
The 6112 series Bilstein has tremendous and mind-blowing features. Before buying these shock absorbers, you might look at the available features. They come in a larger size, fine billet Aluminum spring seats, adjustable spring seats, vehicle-specific tuning, and many more features.
Monotube Design
If you are a crazy driver and love to ride seriously in off-road traction, these shocks have no alternative. This monotube design improves handling, braking, drivability, and consistent riding, and ensures longer service life. It also features high-pressure nitrogen to reduce filthiness and excessive heat.
Single Piece Of Aluminum Rod Guide And Seal
It has an Aluminum body with a rod seal and guide. It protects the shocks from dirt, sludge, mud, and garbage to keep the shock-like news. With this construction, it will last longer and maximize heat dissipation. Likewise, the piston rod is coated with chrome-plated steel.
Durability
Overall, it is best in terms of durability. When talking about durability, it is an intelligent choice. The chrome-plated piston and monotube design enhance durability. The coil spring is very hard and doesn't allow early damage. You can easily go up to 75K miles without any damage or wear.
Extra-Sized Piston 
It has an extra-large piston with a standard diameter shape. The rod size is 18mm and the piston size is 60mm. This shape tells that it has a larger size that helps to respond swiftly and efficiently. The thicker active piston manages extreme-level rides and keeps the response enabled under hard hits and outside obstacles.
Consistency
The benefits of a larger piston are many. Riding consistency mostly depends on the monotube design, piston rod size, spring availability, and other objects. The 6112 shocks come with all the things. That's why it provides consistent performance and riding experience.
What Makes Bilstein 6112 Shock Absorbers Best In The Market?
There are lots of phenomena that make them the best overall. There are the latest front Coilovers for the ultimate off-roading. With a larger and deeper piston rod, it completes its job effortlessly. The loading capacity is great. It is also ranked higher and customers gave these shock absorbers 5 out of 5 ratings.
Pros
Provide the utmost performance on both on-road and off-road.
Perfectly matched with lesion coil springs.
Durable and reliable.
Satisfactory life expectancy and mileage.
Monotube design for fade-free performance in all conditions.
All the necessary kits are included.
Cons
Sometimes decrease in on-road handling.
Conclusion
The comparison between Bilstein 5100 VS 6112 and their individual discussion makes it easy to choose the best one. If you look deep, you can make distinctions between them. They are produced by the same manufacturer named Bilstein. So there is no difference.
But if you look at their price range and internal structure, you may identify the separation. Bilstein 5100 is an affordable option than Bilstein 6112 series. If you are looking for touring beneficial shocks, you can go for the 5100. But if you are a serious driver and want to have more fun on all types of surfaces, you can go for the 6112.
They both offer a limited lifetime warranty. But in this regard, Bilstein offers a limited lifetime warranty on some parts. Overall, it can be said, that both shocks are perfectly okay.
See also: