When it comes to the suspension parts, Bilstein is a name whose alternatives are hard to find right now. Suppose, you have two options from which you have the opportunity to choose a shock. Which one will you opt for? Want to know the answer? Then today's article between Bilstein 7100 VS 5160 shock absorbers is for you. Reading this subtle comparison between these two will help you decide your desired shock for your automobile.
Both the 7100 and 5160 series are remote reservoir shocks. They have some tremendous features and benefits that make them outstanding. The 7100 is very attractive and best for off-road recreational vehicles. On the other hand, the 5160 series are aggressive off-road shocks and an ideal solution for your lifted truck, Jeep, and SUVs. The common but crucial similarity between them is they both are rebuildable. Moreover, the 5160 series shock absorbers are pre-assembled while the 7100 series are not. Thus, there are lots of differences between them.
So before investing your valuable money, keep reading this article carefully.

| | | |
| --- | --- | --- |
| Basis of comparison | 7100 | 5160 |
| Manufacturer  | Bilstein  | Bilstein  |
| Item weights | 3.70 lbs | 6.79 pounds |
| Built-in  | USA | These shocks originated and are made in the USA, Hamilton, OH. |
| Piston size  | 46mm | The piston size is 46mm |
| Shocks Size  | The shocking size varies. The standard size is between 8 inches to 14 inches. | Travel length is standard and the size is 10.47" |
| Rod size | 10 to 12mm | 14mm |
| Positions  | Both front and rear | These shocks are also for the front and rear. |
| Adjustable valving | Enable adjustable valving system. | They have digressive valves. |
| Lower mount/upper mount | Stud/bearing  | Don't have the lower and upper mount. |
| Extended length | 18.460 inches | 25.69 inches |
| Bushing material | Spherical bearing/Rubber | Rubber  |
| Suitability or perfect addition for | All off-road recreational, stock trucks, Prerunner trucks, limited race buggy applications, and all-terrain vehicles. | For aggressive off-road vehicles, lifted trucks, Jeep, or SUVs. |
| Shocks type | Remote Reservoir and rebuildable shocks  | The 5100 series is also a remote reservoir and rebuildable shocks. |
| Adjustable height | | The lifting height is between 0 to 1.5" |
| Road conditions | Monotube gas pressure design creates gas for easy movement. Schrader valve shocks with diving pistons extend shock life.  | Best for off-road, flat gravel roads, and on-road with some potholes. |
| Body materials | Chrome-plated, electroless nickel coating and zinc-plated body finish. | The body is made of steel with a zinc-plated finish. The reservoir clamp is made of billet Aluminum. |
| Mileage or life expectancy | The average mileage expectancy is 100k. | With these shocks, you can go for at least 75k to 80k without facing any hassles. |
| Design  | Monotube gas pressure design creates gas for easy movement. Schrader valve shocks with diving piston extend shock life.  | Rugged and high-quality remote reservoir and rebuildable design increase control and life expectancy. |
| Special tools | All the needed and special installation tools are included. | All necessary installation hardware like washers, bushings, and nuts are included for smooth and fast installation. |
| Adjustability  | Cool and hassle-free adjustment for its self-adjusting deflective disc valving. | Comes with lifted vehicle support that adjusts easily. |
| Warranty  | It features a 360-degree swivel banjo hose fitting that helps to perform continuously. | Bilstein offers a limited lifetime warranty in these series. |
| Key features | It features a high-flowing piston that reduces harshness and self-adjusting deflecting disc valving improves overall control. | Monotube gas pressure design creates gas for easy movement. Schrader valve shocks with diving pistons extend shock life.  |
| Expenses  | They are more affordable and cost-effective than their counterparts. The price ranges from $180 to $200. | They are more affordable and cost-effective than their counterparts. The price ranges from $180 to $200. |
Bilstein 7100 Series Shock Absorbers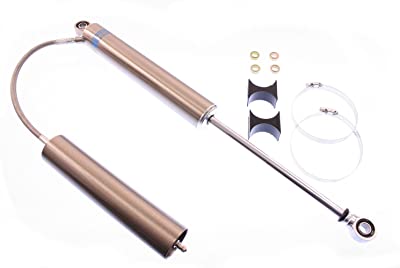 Are you looking for shocks that fulfill both your off-road and highway demands? Then why are you late? You can go for these shocks without hesitation. These shocks are available in both remote reservoir and non-remote reservoir options. There are 4-size available in these shocks. So you can choose any of them. You can opt for 8" to 14" sizes as you need. Variable size comes for various vehicles.
Both monotube and twin-tube design
The 7100 series shocks come with both monotube and twin-tube technology that ensures better quality, high performance, and durability. They have a separate outer body from the internal tube. The piston provides better moving efficiency so that you enjoy a consistent ride all the way.
Piston with deflective disc-valving
Bilstein shocks come up with variable disc valving. These come with a deflective disc valving system. Deflective disc valving provides consistent performance under heavy load and pressure. Also, it helps to ride calmly and peacefully throughout all the velocity ranges. Tunable gas pressure design increases oil capacity to keep the shock workable under constant pressure.
With and without a remote reservoir
These shocks feature both remote and non-remote reservoir options. So you can control shock motion when you need to. It also increases damping and smoothly converts the potential energy into kinetic energy. It enables upper and lower mount as well. As it is a remote reservoir shock, it operates genuinely and smoothly.
Glamorous finish
There are hard-chrome plated solid piston rods that eliminate any kind of obstacle. In the meantime, it increases valving consistency for extended shock life. There is also a separate floating piston that circulates and separates the oil efficiently. The standard-sized tube has the highest tolerance that dissipates harmful heat. The body is coated with zinc plating and finished with electroless nickel plating. Besides, the shock has a super-finished, corrosion-resistant, and durable powder-coated or anodized body.
Extended length
These shocks are designed with a lower mount and upper mount system. This is why these suspension parts have extended lengths. The extended length and travel length are 27.68" and 11.58" respectively. Also, these shocks come with 4-variable sizes to choose from. For this feature, these shocks are great on off-road and any rough terrain.
Pros
Electrolytes nickel-plated body with clear powder coat.
Rust-resistant, corrosion-resistant, and durable shock body.
Remote and non-remote reservoir shocks.
Universal fitting and gas-charged.
Versatile shocks.
Cons
Bilstein B8 5160 Shock Absorbers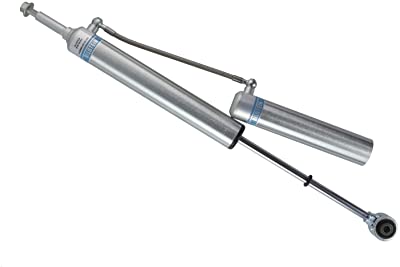 Do you seriously love to ride off-road? Are you a rider full of craziness? So these shocks are made for you. These are the most aggressive and high-tolerant shocks for off-road worlds. If you enjoy and experience the highest control over vehicles even while riding rough terrains and potholes, there is no alternative. The zinc-plated piston increases oil capacity and keeps the system cool by dissipating additional heat.
Fade-free performance over sluggish and rough terrains
With the 46mm monotube design and advanced technology, these shocks provide a fade-free, hassle-free, consistent, and enjoyable ride till the end. With rigorous construction and high-quality design, it performs with its high range. For this reason, these shocks look compact and clean.
So don't worry about performance on potholes or uneven surfaces. You can go through like you are driving on the level or flat surfaces.
OE quality shocks
Blistein is a well-known suspension manufacturer brand that has been in the market for over 60 years. Their suspension parts, especially shocks and struts are reliable and durable. This is why people can rely on their products. These shocks are originally OE replacement products with quality. This feature ensures better life expectancy.
Superior control and shining
The shock features a remote reservoir that maximizes oil capacity. Maximizing oil capacity, can reduce heat and eliminate additional heat for better control.  As it is a remote reservoir shock, you don't need to worry about control and handling. You may be surprised to know that the remote reservoir and rebuildable option not only expand the oil capacity. It also helps to increase the average life of shocks. The reservoir clamp is made of billet Aluminum that increases shine.
Unique and standard swivel banjo fitting
These shock absorbers feature different and unique swivel-fitting designs. What does it do? It helps to rotate the shock from 0 degrees to 360 degrees spontaneously. The 46mm monotube design makes you feel better while handling, braking, and cornering. Most importantly, the B8 series enhances wheel travel in most applications.
Remote reservoir
These shock absorbers come with remote reservoir technology to ensure maximum control and performance. This feature also enhances the limits of your shocks. This remote reservoir comes to light with so many benefits including it can be installed in small places. For example, you have a sports car. So it can be designed smaller without changing performance and drivability.
Counter, if you have heavy-duty trucks or light trucks and SUVs, this shock itself can increase wheel travel. And for this, it helps consistently to improve control and performance in both rough and even surfaces.
Lifted vehicle support
Though it doesn't feature any ride height adjustability, it supports lifted vehicles. It helps to minimize extra bumps and bouncy problems. So you can ride hassle-free. The height adjustability is superb. The 5160 series uses snap rings and grooves on the shock body that allow for adjustment without ruining shock performance.
Self-adjusting disc valving
It comes with an auto-adjusting disc valving feature that allows the shock to respond quickly against harmful situations. Moreover, it helps to change the gear instantly. In the meantime, it can understand when the vehicles change the surface and react according to the surface conditions. These shocks automatically maintain the brake. Also, with the help of this feature, shocks can protect the body.
Perfect height adjustability
With adjustable benefits, the shock absorber easily adjusts with the nuts and adjusters. It also dampens the rest suspension movement of your vehicle to enhance handling and entire performance. Furthermore, height-adjustable shocks easily maintain vehicle height by lifting. When you're riding on a rough and curved road, it can maintain the body swap of the car. For this benefit, you can ride your vehicle hassle-free without lessening speed.
Pros
Monotube gas pressure construction.
Offers limited lifetime warranty.
Rebuildable and stock mount remote reservoir shocks.
Mind-blowing greater heat dissipation.
Sensitive degressive valve settings.
Cons
They will break after 4-6 months of poor installation.
Bilstein 7100 – Best Overall
Bilstein 7100 shock absorbers are designed for any kind of off-road motorsports and recreational vehicle. With and without remote reservoir features allows you to control and handle perfectly. With both monotube and twin-tube designs, it makes the ride better and smooth. Moreover, a remote reservoir function and gas-charged design expand oil evenly so that the piston can move easily. By doing this, shocks increase the speed of the vehicle and enhance drivability. Each shock absorber is served with ½" heims for maximum durability in off-road conditions.
Bilstein 5160 – Best for Off-road
If you are looking for aggressive shocks for serious off-roading, these shock absorbers get the job done. With plenty of mind-blowing features and enthralling triple-C technology, they deliver optimum performance. You will feel like you're driving on a flat road while driving uneven roads. With a standard and unique swivel, banjo fitting allows 360-degree turning ability. That's why the shocks provide an unconditional and consistent ride. The monotube design ensures consistent, hassle-free, and fade-free performance in all conditions.
Furthermore, self-adjusting deflective disc valving allows you to react immediately. It allows you to respond quickly and change the path instantly. Superbe expandable oil capacity helps extract heat and cool the system.
Conclusion
No matter which branded car you have or which road you drive. You can't avoid the role of suspension parts like shock absorbers. So far, differences between Bilstein 7100 VS 5160 make it easy to understand which shock is better for you. Both mentioned shocks are tremendous and better for off-roading.
But if you are an aggressive and crazy rider and love to spend lots of time off-road, you can go for the Bilstein 5160 series. But if you want a fade-free, consistent, and hassle-free ride all the time, you can go for the Bilstein 7100 series. I hope, all of you are enjoying the beneficial information and wish you a better ride experience by the end.
Read also