Are you looking for shocks that are cost-effective and reliable? So there is no alternative option except Bilstein. Bilstein, at present, produces the most affordable and high-quality suspension parts for your cars, SUVs, or any other vehicle. This article is based on the comparison between Bilstein 5100 Vs 5160.
Basically, both Bilstein 5100 and Bilstein 5160 are the same in the manufacturer issue. Both are made by Bilstein. Also, they both have factory height adjustability. But they have lots of dissimilarities too. One of the common differences between them is the reservoir issue. The 5100 is a non-reservoir shock whereas the 5160 is a reservoir shock. At the same time, they are different in the rebuilt option. The late-model (5160) is a rebuildable shock absorber. In contrast, the early model is not rebuildable.
Thus, there are many differences between them that make them unique. So, you want to invest your hard-earned money in the right place, right? So, read this article if you want to select the best shocks of these two.
Bilstein 5100 Vs 5160 With a Table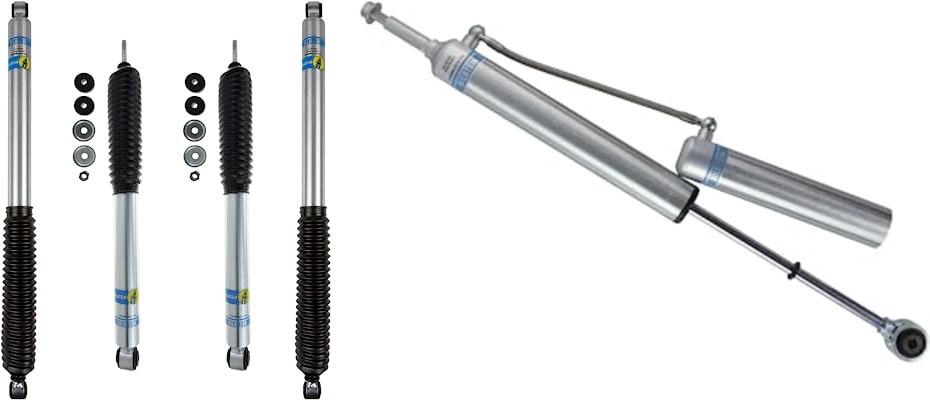 | | | |
| --- | --- | --- |
| Basis of differences | 5100 | 5160 |
| Manufacturer or Brand | Bilstein  | Bilstein  |
| Shocks weight | 22.5 pounds | Between 7 to 9 pounds |
| Color  | Silver  | Standard  |
| Position | Front/rear | Front/rear  |
| Shocks type | Non-reservoir shocks | Remote reservoir shocks |
| Compatibility | Best addition for all 4WD vehicles, especially lifted trucks, pickups, and SUVs. | Specially engineered for trucks, SUVs, and lift height vehicles. |
| Made in | built-in the USA or Germany | USA, Hamilton, OH |
| Piston size | 46mm | 46mm |
| Rod size | 14mm | Same as its counterpart |
| Adjustable height | It has a 1", 2", and 2 ½" stock ride height | 0 to 1.5" lift height |
| Road conditions | Perfect choice for off-road, fire roads, camping roads, and potholes. | These shocks are the best for off-road, flat gravel roads, and on-road with some potholes. |
| Best for | These shocks are a budget-friendly addition for regular off-road drivers and towing capacity is great. | Improve handling capacities, increase oil capacity and expand travel, fly down from the top easily, and hauling. |
| Construction  | The body material is made of rust-resistant Aluminum with a zinc-plated finish. It is made with chrome-plated steel. | The body is made of steel with a zinc-plated finish. The billet Aluminum reservoir clamp protects from sludge and garbage. |
| Mileage expectancy | It can last up to 70k miles without damaging and dampening. | The mileage expectancy is more than its opposite one. |
| Design  | It utilizes a monotube design with a 46mm fine-polished piston. | With rugged and high-quality reservoir design increases control and life expectancy. |
| Including tools | It comes with a set of 4 shocks and complete necessary washer bushings, nuts, and mounting hardware. | All necessary washers, bushings, and nuts are included for smooth and fast installation. |
| Adjustability  | Smoothly adjustable and direct-fit installation. These shocks come with OEM Coilover springs and mounting hardware that allows you to install easily. | Comes with lifted vehicle support that adjusts easily. |
| Warranty  | It offers a limited lifetime warranty. | Bilstein 2-years warranty |
| Performance  | They provide the utmost and enthralling performance for towing, excellent performance in off-road worlds. | These shocks have a unique digressive valving system that produces full damping capability and enhance performance.  |
| Expenses  | These shocks are cost-effective, budget-friendly, and affordable options. The price ranges from $350 to $500. Check Price On Amazon | These shocks are slightly more expensive than their counterparts but still, affordable considering their features. Check Price On Amazon |
Bilstein 5100 Shock Absorber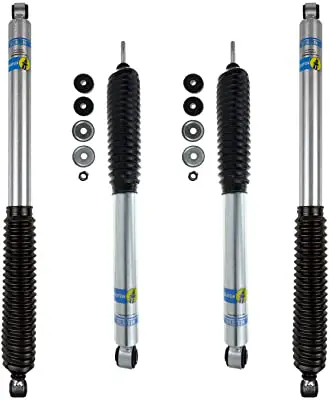 The 5100 series of Bilstein shocks is a tremendous shock with traditional technology. It is the perfect addition for lifted trucks, Jeeps, and all mini trucks. These shocks are designed with specific lift kits improving the stock OEM mounting outline. They feature Bilstein's single-tube. Moreover, high-pressure gas can reduce complexity and harshness. To know more features, read the following things.
Monotube design
The 5100 series shocks have a monotube design for consistent performance and a longer lifespan. While compared with twin-tube design shocks, monotube design shocks have the ultimate damping ability. This is why these shocks provide superb ride quality. In these monotube shocks, the cylinder is filled with oil. Furthermore, a high-pressure nitrogen gas charge allows them to get up and down easily.
Durable body materials
All the Bilstein suspension parts use the same principle. The strut tube is made with a rod and the rod is thicker enough to protect medium harmful objects. The piston rod is made with rustproof steel that enhances durability. It provides superior performance and ensures high tolerance.
Moreover, the piston is coated with a super-finished chrome plate. It features a zinc or nickel-plated coating with a perfect and clear coat sealant. Additionally, it can resist corrosion as well. This construction makes this long-lasting and efficient.
Larger size pistons area
The piston area is expanded so that it can move spontaneously. In addition to this, it balances oil pressure and eradicates harshness. The flowing rate of the piston is captivating. This is why it works superbly and increases damping. If you have larger diameter tires, it is perfect. They have superior control over the large diameter tires or wheels.
Independent rebound and compression tuning
These shocks have both rebound and compression benefits. The compression controls the speed of the vehicle's unsprung weight. On the contrary, rebound controls the seed of its sprung weight. So it can adjust efficiently and improve ride height.
High-flow nitrogen gas charge
These shock's internal parts are made to endure high tolerance with sensational materials. Also, these are made to fit in factory mounting configuration with expanded length. It features a high-pressure nitrogen gas charge to erode heat and increase shock life. It has an internal dividing piston that allows the oil to expand as it heats up. It prevents additional stress on seals and eradicates them at once.
Standard size shocks
Blistein 5100 series shock absorbers have a 1.95" body size and 14mm rod size. With respectable and standard-sized shocks, they adjust perfectly in the lifted trucks and light pickups or vans. Also, the chrome-plated piston size is 46mm which is also standard.
Self-adjusting digressive valving system
This feature helps you to respond quickly while changing road conditions. However, it is patented digressive valving to perform on the highway. Moreover, it allows you to react quickly and maintain a comfortable and risk-free ride. Since it adjusts automatically, you can complete your job easily. It may change the ride nature but shouldn't make it feel difficult.
Simple installation process
Needless to say, the installation is as easy as you imagine. You need to see the manual guides and information. Remember to follow manufacturer instructions. Bilstein provides all the special needed equipment for installing hassle-free. The washers, bushings, and nuts are included so that you can install them gently.
Pros
Extreme tolerance capability.
Expanded working piston area for better damping.
Offers limited lifetime warranty.
OEM certified mounting.
Made in the USA.
Easy ride height adjustment.
Extremely affordable in pricing.
Reliable, Durable, and made for last.
Cons
Non-reservoir shocks.
Compatible only specific vehicles.
Bilstein 5160 Shock Absorber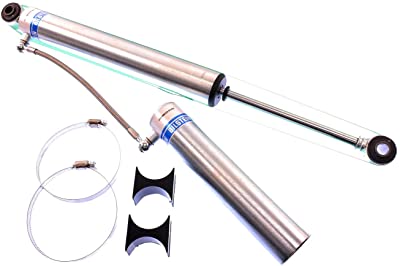 Are you looking for the best off-roading shocks? Are you a serious and crazy rider in off-road conditions? But before riding off-road with maximum speed and the utmost performance, you need the best shocks and struts. In this case, choosing Bilstein B8 5160 would be the best. However, these absorbers added a remote reservoir for ultimate control on the roughest terrain. They have plenty of features. Among them, some are given below.
Optimum control over cranked road
With rigorous construction and high-quality design, it performs with its high range. As it is a remote reservoir shock, you don't need to worry about control and handling. Zinc-plating and extended oil capacity reduce extra heat to ensure durability. The reservoir clamp is made of billet Aluminum that increases shine. For this reason, these shocks look compact and clean.
So don't worry about performance on potholes or uneven surfaces. You can go through like you are driving on the level or flat surfaces.
360 degrees rotation ability
These shock absorbers feature different and unique swivel fitting designs. What does it do? It helps to rotate the shock from 0 degrees to 360 degrees spontaneously. The 46mm monotube design makes you feel better while handling, braking, and cornering. Most importantly, the B8 series enhances wheel travel in most applications.
Remote reservoir
These shock absorbers come with remote reservoir technology to ensure maximum control and performance. This feature also enhances the limits of your shocks. This remote reservoir comes to light with so many benefits including it can be installed in small places. For example, you have a sports car. So it can be designed smaller without changing performance and drivability.
Counter, if you have heavy-duty trucks or light trucks and SUVs, this shock itself can increase wheel travel. And for this, it helps consistently to improve control and performance in both rough and even surfaces.
Self-adjusting disc valve
The B8 5160 series shocks allow you to maintain your brake automatically. Because these shocks have a self-adjusting disc valving system that allows you to feel free to adjust the shocks. It also allows it to work under heavy load and protect the vehicle from squatting.
With adjustable benefits, the shock absorber easily adjusts with the nuts and adjusters. It also dampens the rest suspension movement of your vehicle to enhance handling and entire performance.
Lifted vehicle support
Though it doesn't feature any ride height adjustability, it supports lifted vehicles. It helps to minimize extra bumps and bouncy problems. So you can ride hassle-free. The height adjustability is superb. The 5160 series uses snap rings and grooves on the shock body that allows for adjustment without ruining shock performance.
Rebuildable shocks
These shocks come with rubber isolators and hose clamps to mount the reservoir. However, these series of shocks are rebuildable. After 65k mileage, you can rebuild the shocks. It has lower gas pressure that helps to have a smooth ride all the time. It is the most crucial benefit that lower pressure shock has less spring rate. This is why you can ride your vehicle hassle-free.
Pros
A remote reservoir shock.
Rebuild option after 65k mileage.
Provides tireless performance in all conditions.
Made in the USA.
Made for last.
Triple C technology that enhances shock beauty.
Cons
Slightly more expensive than average.
Bilstein B8 5100 – Best for Regular Drivers
If you love to ride your vehicle on off-road surfaces on a regular basis but are worried about suspension parts, you can go for the 5100 shocks. It has self-adjusting altering disc valving and a high-flow piston that reduces strictness. Moreover, it has the power to control larger diameter tires. The high-pressure nitrogen gas and the exact internal seal forces help to extend the shock life. Using a high-pressure nitrogen gas charge, it can circulate oil fast and smoothly under rough conditions.
Most importantly, these shocks feature perfect ride height adjustability. Moreover, if you look at their price range, you will love them. They are affordable and cost-effective parts while providing high-quality performance. Overall, it can be said considering minimal off-roading and performance, these shocks are out of level.
Bilstein B8 5160 – Best for Off-road
If you are looking for rigorous and high-quality shocks for serious off-roading, choosing these shock absorbers doesn't ruin your investment. With plenty of mind-blowing features and enthralling triple C technology, they deliver optimum performance even on uneven surfaces. However, original quality shocks have 360 degrees rotation. The monotube design ensures consistent, hassle-free, and fade-free performance in all conditions.
So if you want to enjoy all the fun in off-road worlds, you should go for it. It has unique remote reservoir technology that enhances oil capacity for greater heat loss. It features self-adjusting deflective disc valving that reacts faster and enhances vehicle control.
Conclusion
So far, you may understand the differences between Bilstein 5100 Vs 5160 shock absorbers. Undoubtedly, at present time, both shocks hold a strong position for their side. Bilstein 5100 series shocks are better in the price range and performance. But the Bilstein 5160 series enhances your riding experience and drivability. Their remote reservoir and rebuildable features make them unique in the market.
So hope you enjoy the reading and find it helpful. Before installing your valuable parts of vehicles, make sure you choose the right one.
See also