Spark plugs can tell a lot about your automobile's performance. This small but significant component either can boost up your driving experience or dampen it down. If you are looking for the best spark plugs for Acura MDX, our recommendations can be a good place to start your search.
We know how exhausting it may be to look for the right plugs for your engine. While purchasing- budget, durability, expectations, etc are factors you also need to take care of. To make things easier for you, we have sorted our list from the best spark plugs for Acura MDX available in the market.
Our Top Picks
Brand-wise Spark Plugs for Acura MDX Cost Chart
| | | | | |
| --- | --- | --- | --- | --- |
| Serial | Manufacturer | Brand Name | Set of | Average Cost |
| 1 | NGK | NGK Laser Platinum Spark Plugs | 6 | $55-$60 |
| 2 | NGK | NGK Laser Iridium Spark Plug | 6 | $65-$70 |
| 3 | Bosch | Bosch Automotive | 1 | $5-$8 |
| 4 | Newparts | Denso Iridium Power Spark Plugs | 6 | $46-$50 |
| 5 | DIMAIER | Dimaier Iridium Spark Plugs | 4 | $26-$30 |
How to choose the best spark plugs for Acura MDX?
To begin with, we need to demystify what we understand by the best spark plugs. An expert's opinion- a good spark plug is the one that concise the ignition timing, increases acceleration, withstand high heat, offers smooth engine idling, is resistant to wear out, can bear pressure, improve vehicle's overall performance, and most importantly compatible with your engine. Regardless of the cost, if you find a plug that will provide you with these characteristics then you can be confident that it is the best spark plug for Acura MDX.
How do you change the spark plugs on Acura MDX?
Changing spark plugs on an Acura MDX engine is a simple task with few complications. Just a few items need to be disconnected and replaced, with a few steps and your job is done. 
Required materials
Suitable spark plugs
3/ 8″ extension bar
5/8″ spark plug socket
Torque wrench
Spark plug gapping tool (if not pre-gapped)
Remove engine covers
Lift the hood. Remove the engine covers if you have them. Move to the right and around the rear of the engine bay. Remove the front and back wiring circuit covers.
Detach the coils 
While changing spark plugs, detach all the coils. Unscrew the 10mm nut that is holding the coil in place. Once removed, gently twist and pull the coil to release it. The rear side is slightly more perilous, but not significantly more difficult than the front. 
Replace new plugs
Put together the spark plug socket, extensions, and ratchet on the front three cylinders. To engage the spark plug, insert the socket into the spark plug hole. If your spark plug socket no longer has the rubber insert, you will need a pair of long needle tip pliers to remove the plug once it is completely backed out of the threads. 
A magnetic-tipped telescopic wand can also be used to extract the spark plugs. Putting a universal joint between the two extensions for the back three plugs will make it much easier to insert the socket and extensions into the hole. You have to be extra cautious since removing the spark plug without the rubber grommet in the spark plug wrench may be difficult.
Apply a tiny quantity of anti-seize compound to the threads before attaching the new plugs. Thread them into the head gently using only the socket and extension. Tighten to hand-tight. But do not over-tightening, it may pull the threads out of the head. 
Reinstall the parts 
Secure any tools that may be on the engine or lying about after installing all of the essential parts. To guarantee good functionality, start the engine. When you're finished, reinstall the engine covers.
Preautions
Your engine must remain off and cold.
Do not put excessive pressure while pulling out parts from your engine.
Remain extra careful working with the  wrench.
You should use gloves for your own safety.
5 Best spark plugs for your Acura MDX In 2023
Selecting the right spark plug is important because it has a connection with the other functions of your vehicles. And finding the best spark plugs for your Acura MDX's engine is a lot of work, especially when every manufacturer claims to be the best. 
Our recommendations are based on expert opinions, user reviews, and the engine's compatibility.
1. Best Overall: NGK Laser Iridium Spark Plugs
Top Features:
Good at heat transfer 
Lower gas release
Alumina silicate ceramic insulator
Iridium as core electrode material 
Anti fouling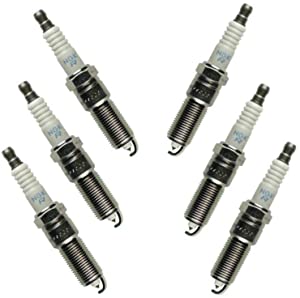 NGK is a Japanese brand that is ahead in ignition technological advancement compared to the others. Their laser iridium technology provides superior ignition and durability. For your Acura MDX is perfectly compatible.
These plugs comprise iridium wire center electrode and platinum wire ground electrode, which ensure stable engine idling. They do not wear out quickly. Better at heat transferring, they also emit less gas. 
According to the manufacturer, the heat range is 7. Their trivalent metal plating is preventive to both fouling and corrosion. NGK laser iridium spark plugs make your fuel budget shorter. 
Pros 
Cons
Affordable
Durable
Dependable 
Need proper maintenance 
Related: NGK 7397 vs 1465: Which Is The Perfect Replacement?
2. Best For Fuel Efficiency: NGK Laser Platinum Spark Plugs
Top Features
Original Manufactured Originated design 
Laser covered Platinum centre electrode tip
Platinum disk coated backside
Improve fuel efficiency

Another spark plug from NGK is on our list. These plugs have a dual platinum surface to slow the gapping out rate.  The platinum electrode is proven to offer faster spark and quick acceleration. 
The breakthrough laser-plug technology is welded with strong ceramic materials that have the capacity to handle temperature and pressure better. So, platinum spark plugs from NGK are better at performing in tough situations.
They are affordable. These plugs have anti-seizing resistance, platinum-coated backside assures a good life span. Improve engine performance and lower gas emission. These plugs are the ones you will love to use. 
Pros
Cons
Super ignitability
Anti-corrosion
Easy to install
Live shorter than iridium 
3. Best For Performance: Bosch Automotive Double Iridium
Top Features: 
Double iridium firing tip 
360 degree laser coating 
Original equipment 
Perfect fit 
7 year guarantee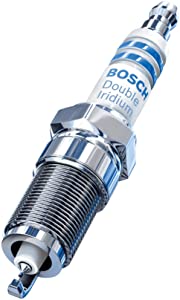 Spark plugs from Bosch are designed to meet users' expectations. We expect rapid spark supply, durability, anti-corrosion, and most importantly optimum performance. Bosch double iridium plugs offer us all of these. They come in a pack of two.
The 0.6 millimeter firing wire pin helps to create a super spark that starts the engine smoothly. The insulator is a projected type. 360-degree laser weld prevents corrosion and increases durability. 
As the name suggests these spark plugs have double iridium electrodes. One as a firing pin and one as a ground electrode and their inlay provide an excellent engine performance. They already have a long life span however they also come with a seven-year warranty. 
Pros 
Cons 
Longer life
Reliable performance
Pre-gapped
Comparatively costly 
4. Best For Low Misfires: Denso Iridium Power Spark Plugs
Top Features:
Fine-wire iridium centre 
Prevent misfire
Platinum group electrode 
360 laser coate 
Reduce quenching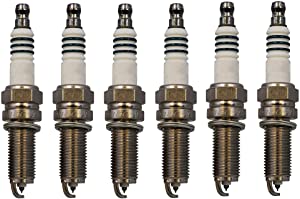 Denso is one of the prominent spark plugs in the automotive market. Sustainable in nature because they are known for providing extremely long plug life. That means once you install them you might forget when you do that. 
Their 0.7 mm diameter electrode dramatically improves your engine's work functions. The platinum-iridium duo smoothens engine idling and boosts up acceleration. They provide consistent performance and do not fade out quickly according to the opinion of Experts. 
These spark plugs can withstand extreme heat and can create a consistent spark. They are easy to install. Burn less fuel and reduce less gas. Fairly priced. These are a better match and great value for your Acura MDX. 
Pros 
Cons
Sustainable
Budget-friendly
Better fuel economy
Require extra maintenance 
Related: Denso Iridium Spark Plugs Review (2021)
5. Best For Quick Start: Dimaier Iridium Spark Plugs
Top Features: 
Laser molded center electrode
Quick start
Compatible with your Acura MDX
Anti fouling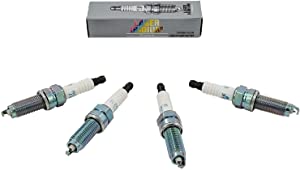 Dimaier manufactures the 5787 iridium spark plugs. If you are looking for very low-cost but high-quality and want to test a new brand, we would suggest you try them.  
Greater spark is provided by the 0.8-millimeter diameter iridium electrode centre with the platinum ground electrode. They have a consistent level of performance. As iridium is one of the strongest metals, therefore, these plugs do not wear out easily. 
They minimize fouling and have supreme corrosion resistance. They do not need any gap adjustment. Capable of working in a severe condition. These plugs are fantastic value for your money. 
Pros
Cons
Budget-friendly
Longevity
Pre-gapped  
Not compatible for every engine 
FAQ of Spark Plugs For Acura MDX
How often should I change spark plugs on Acura MDX?
Spark plugs on an Acura MDX should be changed every 30,000 miles, according to the experts. They also advise not to travel more than 100,000 miles. We recommend changing your plugs after every 30,000 to 70,000 miles to avoid interfering with other systems of your vehicle.
What brand of spark plugs does Acura use?
Generally, Acura manufacturers prefer spark plugs that were OEM for the vehicle. In that case, most often they used the NGK laser iridium spark plugs or Bosch Double iridium spark plugs. 
How much are spark plugs MDX?
Acura MDX Spark Plug prices range from $16 to $223 depending on the kind, brand, and quantity required. If you can change them yourself, there is no need for additional labor costs. However, if you want professional assistance, labor expenses are estimated to be between $100 and $200.
Conclusion
We are pretty sure now you have much more information than before about how to choose the best spark plugs for Acura MDX, what brands you should consider, and how you can replace them without any hassle. I hope, this article met your research haul about spark plugs.
See also: