The Chevrolet 454 is the most preferred engine when it comes to increased power and performance. Somehow your engine is not functioning properly. Later you find out you have chosen the wrong spark plugs and now your engine may get irreparably damaged. We all agree that this is something we want to avoid at all costs.
Despite their small size, spark plugs are critical for your custom-built engines. In such a scenario, finding the ideal spark plugs is challenging. If you are feeling uncertain about which one to buy here we have found out the best spark plugs for big block 454 engines. We hope this will help in narrowing down your search to find the right one. 
Our Top Picks
Brand-wise Spark Plugs Big Block 454 Cost Chart
| | | | | |
| --- | --- | --- | --- | --- |
| Serial | Manufacturer | Brand Name | Set of | Average Cost |
| 1 | Autolite | Autolite Iridium XP Spark Plug | 4 | $11-$15 |
| 2 | E3 Spark Plugs | E3 Powersports Spark Plug | 1 | $5-$8 |
| 3 | NGK | NGK Spark Plugs | 8 | $16-$20 |
| 4 | ACDelco | ACDelco Conventional Spark Plug | 1 | $1-$5 |
| 5 | ACCEL | ACCEL Copper Spark Plug | 4 | #42-$47 |
How to choose the best spark plugs for Big Block 454?
While choosing spark plugs of big block 454 you should consider the power generating and heat management capacity of the plug. 
Because larger horsepower implies greater heat, therefore the greatest suggestion is when it comes to picking a spark-plug heat range is the simplest-put spark plugs in the engine that will live. This is true for racing and street engines alike. 
The Big Block 454 is also interconnectedly used for the Chevy 454 engine. If you are looking for spark plugs for Chevy 454, this list can also be helpful for you. 
5 Best Spark Plugs for Big Block 454 In 2022
Searching for the right spark plugs can be a painful chore. To ease up your suffering we have laid down the best 5 spark plugs for big block 454. Those are:
Best Overall: Autolite XP26-4PK Iridium XP spark plug
Top Feature:
Fine centre electrode
Iridium enhanced platinum alloy
No gap erosion 
Chrome exterior

Spark plugs from Autolite are technologically advanced. Their 0.6 mm fine center electrode which is heavily iridium coated, has the fastest ignitability. Originating from Mexico and designed in the USA, these plugs featured a Chrome exterior. 
Visibly no gap erosion helps the plug to live a longer life. They are pre-gapped, fit perfectly into your Big Block 454 engines. Patented V-trimmed side wire technology assists them to prevent corrosion. 
Their design is equivalent to the OEM parts. The platinum-protected ground wire ensures the maximum efficiency of the engine. Autolite iridium plugs are easy to install and come in a four-set pack with a limited warranty. Lastly, they are affordable as well. 
Pros
Cons
Durable
Affordable
Pre-gapped
Limited warranty 
Best For The Money: E3 Powersports Spark Plug
Top Features: 
Reduce over temperature 
Suitable for Chevy 454
Increase engine power
Copper core material
Yttrium-enhanced alloy

E3 stands for 'Efficiency, Energy, and Ecology.' They are the only ones who have come up with something like this. The firm places equal emphasis on the performance of their spark plugs as well as on environmental friendliness. 
The copper core electrode conducts super fast ignition which enables the engine to start up rapidly. E3's Diamond-Fire technology can handle heavy engines like the Big Block 454. These plugs increase the engine's power by 3-6%.
The Yttrium-enhanced alloy can lower temperature by 8%. Their ability to function under extreme heat ranges made them suitable for racing cars and can handle intense conditions. They are fairly priced and efficient in fuel consumption. 
Pros
Cons
Environmental friendly
Reasonable price
Reduce fuel consumption
Not compatible with all vehicles
Related: E3 Spark Plugs Review: Is It Perfect Replacement?
Best For Performance: NGK 3951 spark plugs
Top Features:
Copper core material
Decrease fouling
Superior heat conductivity
Excellent performance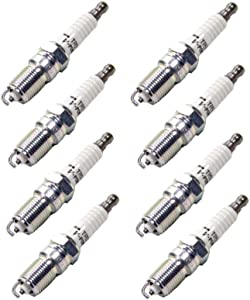 NGK is dedicated to supplying components that are specifically developed to satisfy the needs of major prominent manufacturers of world-leading O.E. suppliers. These plugs reduce gas emissions. 
The plugs are made to meet the most exacting requirements, ensuring reliable functioning in any environment. Because of their longer insulating noses, they prevent fouling. The disadvantage is that they have shorter durability compared to other plugs, however, they are reliable.
The higher heat conductivity of the Copper core electrode allows for faster thermal management and helps to cool down the electrode tip and insulator tip. They contribute to advancing the overall performance of the engine.
Pros
Cons
Improve acceleration
Reduce emission
Resistant to corrosion and seizing  
Shorter life expectancy 
Related: NGK 7397 vs 1465: Which Is The Perfect Replacement?
Best For Durability: ACDelco Professional R44TS6 Conventional spark plugs
Top Features:
Black Onyx coating 
Nickel-chrome alloy
Perfect for chevy 454 engine
Single prong electrode 

As the name suggests, ACDelco professional spark plugs are designed for high-performance engines. These plugs are quite reasonably priced for such high quality. The plugs come with two years of warranty. 
These ACDelco GM Original Equipment components were fitted or validated by General Motors for use in GM cars when they were built. The black onyx coating minimizes corrosions. They are also built for marine applications. 
Copper is a powerful conductor of heat and offers the best stability. The ribbed-suppressor seal increases resistance, reduces 'flash over', and misfires. The nickel-chrome alloy cover made corrosion on the central electrode rare. 
Pros
Cons
Lessen misfire
Backed by General Motors
Provide stable performance
Not pre-gapped 
Related: ACDelco Iridium Spark Plugs Review: Is It Worthy?
Best For Quick Ignition: ACCEL 8199 HP Copper Spark plugs 
Top Features:
Projected tip
Smooth throttle response 
Improve ignition power
Electrode with a copper core
Shorty header spark plug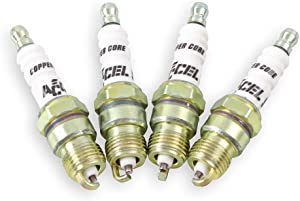 'Shorty' spark plugs from ACCEL boots your plugs from burning. If you do not have enough space between spark plug boots and exhaust headers, your spark plug header may get damaged, therefore, they help to prevent it. 
The plugs are easier to install and remove than OE plugs, these high-performance plugs offer a bigger, wider, fuller flash front and substantially more power while the engine is running at high speed. They are a bit pricey but provide satisfactory performance. 
Better fuel efficiency and throttle responsiveness are two benefits you will enjoy with this upgrade. ACCEL spark plugs remove Dimpling headers for clearance. They also burn the carbon deposits of the plug. 
Pros
Cons
High performance
Easy to install
Save fuel expenses 
Only 90-day warranty 
What is the 454 spark plug heat range?
For 454 spark plugs, the optimal firing end temperature ranges from 500°C to 800°C (932°F to 1472°F). You should be careful about the heat range because the two most common spark plug problems occur for carbon fouling (less than 450°C) and overheating (more than 800°C). 
What is the 454 spark plug gap?
The gap is between 0.035 and 0.045 inches for 454 big-block engines. Most engine designs appear to be working well with a displacement of 0.030-0.045 inches. 
However, many variables can influence which gap works best for you. Those variables include your ignition type, cylinder head design, gasoline type, and even your timing. 
What is the 454 spark plug Size?
The spark plug size for 454 engines is 13/16 inches. Correct spark plug size in your Chevy or mild 454 engine is another important consideration because wrong size plugs can permanently harm your vehicle's electrical system and cause poor performance. 
What is the best year for 454?
The 1970s version is the best year for 454. To everyone's surprise, they produced 330 hp and 475 lb-ft of torque. LS5 and LS6 engines from the 1970 Chevrolet 454 were the most efficient, producing 360 and 450 hp, respectively. 
How can I get more power out of my 454?
To get more power from the super engine maintain the following steps:
Step 1
Boost the engine's performance by upgrading the intake system's fuel and air intake. The more gasoline and air you can get into your Chevy big block engine, the more power it can create. You may significantly enhance the power of your vehicle by swapping out the standard carburetors and air filters for high-performance models.
Step 2 
Swap out the standard exhaust system for a high-flow system. The more air that comes out of your engine, the more power it produces. You can do this by replacing the original 454 headers and mufflers with high-flow components.
Step 3
Replace the standard timing components with racing-tuned ones. If you replace the standard spark plug wires, distributor cap, and camshaft with racing-tuned components, you may give the engine more aggressive timing and affect its output significantly.
Step 4
Install a supercharger. The air will be compressed before it enters the combustion chamber by using the power of your engine's supercharger. Compression makes it possible for more air to enter the chamber, which results in larger combustion explosions and greater power.
How much horsepower does a 454 big block put out?
According to the experts, the 454 big blocks can put out 650 horsepower. 
How much does it cost to rebuild a 454?
If you only want to rebuild the engine without removing or replacing any parts then it can cost you around 3000.00 dollars. However, the expanse will vary from what you want from your engine. Also, you have to include the oil pump, because no rebuilt engine will come with one. So, the finishing cost approximately can be 6000.00 dollars or more. 
Conclusion
We are sure, now you know more about 454 big block spark plugs than before. Not only do we have the greatest plugs on our list, but we also have plugs that are within your budget. Every spark plug's function is the same: to generate enough fire to get the engine started. However, the materials and technologies used in its construction can have a bigger impact on the vehicle's other features. 
In our opinion, the listed spark plugs are worth trying. If you are still unsure, we would suggest you try the ACDelco professional spark plugs, which are more frequently recommended by professionals when it comes to choosing the best spark plugs for a 454 big block engine. Besides, you can try E3 spark plugs specifically for the Chevy 454 engine. 
See also: