The main difference between these Raptor liners and Monstalinerliners is that the Raptorliner is made of two-component urethane systems. This means there are two layers of urethane materials in each piece, which gives it a higher strength-to-weight ratio than a Monstaliner. on the other hand, Monstaliner Made of Urethane Polymers. is that Monstaliner will provide a more durable and long-lasting product.
Bedliners are amazing when it comes to taking care of the vehicle alongside aesthetics. They have a wide range of liners to choose from, as well as great customer feedback. Our comparison guide contains the core features of both these liners, so you can understand better how they work and what you need to consider before investing.
Monstaliner Vs Raptor Liner In Table
| | | |
| --- | --- | --- |
| Particular | Raptor Liner | Monstaliner |
| Made | Raptor liner made of 2 component urethane system | Monstaliner made of a urethane polymer |
| Density | The density of raptor liner has 1.14 | The density of Monstaliner has 1.16 |
| Flashpoint | Flashpoint is 108 degrees Fahrenheit. | Flashpoint is 108 degrees Fahrenheit. |
| Applicable | Liner raptor is applicable in trucks, jeeps, Cars, Tractors. | Monstaliner was developed for jeep and pick-up truck owners. |
| Touch | Touch dry within an hour | Touch dry within 3 to 5 hours. |
| Tough | 10 x Tougher than other bed liners | Tough texture surface |
| Used | Raptor liner can be used with a brush or roller. | Monstaliner roll on bedliner. |
| Covers | It covers up to 125 sq ft per gallon. | It covers up to 60 sq per gallon. |
| Flexibility | Super flexibility and only available in black. | Top-notch flexibility and multiple color option |
| Second Coat | After an hour, the second coat should be applied. | Within an hour, the second coat can be applied. |
| Price | Raptor liner 1-gallon kit price is around $135-$160. Check Price On Amazon | Monstaliner 1 gallon Bedliner kit price is around $150-$254. Check Price On Amazon |
What is Monstaliner?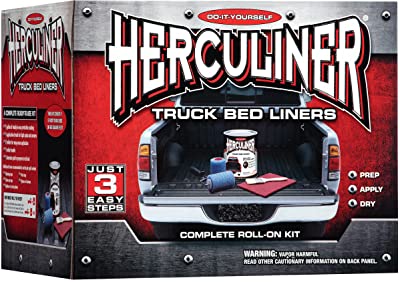 Monstaliner from Magnet Paints is a unique do-it-yourself bed liner coating that can be applied easily with just one or two people working together. The process takes about ten minutes per side, and it requires no special skills or equipment – meaning anyone could achieve professional results in under an hour.
After developing this product specifically for jeep & pickup truck owners who want high performance but don't have access to expensive spray installed liners; we found out how challenging installation was going to become when dealing alone against big corporations like GM/Chevy Truck Company. Monstaliner is a do-it-yourself kit that includes the coating and catalyst plus surface preparation tools. It can be purchased separately for spray installation using undercoating guns, which are easier to use than road Lutheran tools 
What is Raptor Liner?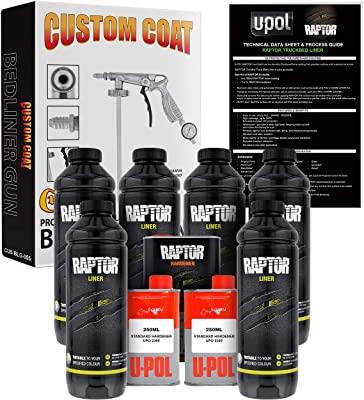 Raptor is a durable protective coating that can be applied to any surface, regardless of substrate. It's designed for the toughest climatic conditions and will withstand common fuels like gasoline or diesel as well as UV rays scratch stains from weathering – even if you drive off without applying it.RAPTOR Liner started out as a pickup truck bed liner coating, but recent times have seen the uses grow too numerous applications. We hope once you use Raptor Liner and see how easy it is to apply, that your opinion of our product may change. You'll be able to share this with all the other people out there who are looking for liners like yours.
Monstaliner Vs Raptor Liner: Major Differences
Built Quality
These liners are made out of urethane polymers that offer many advantages. One can use it directly and they dry off very quickly, with the built quality being too good to believe. These products come equipped with UV protection as well as hardness which makes this unique system even more powerful than before.
Packaging
These two products are top-notch members of the liner industry and packing shows how carefully they're crafted. Raptor knows what consumers want, including a veteran with experience to call upon; it includes all that's needed for installation: hardener as well as some basic tools you bring home yourself! The latter comes in much simpler packaging but still provides expert help when needing assistance installing your new package shelf or backsplash material into place.
Durability
These new liners are hassle-free in terms of durability. It goes on forever with the help of a technology powered by ingredients that ensure it won't peel off or get rusty, immunity against corrosion and UV rays for long life spans! These coatings have an estimated 10 – 20 year lifespan.
Hardness
Urethan integrated liners are super flexible and dry up quickly. It can withstand scratches and stains. They're so sturdy, they never need to be replaced. These waterproofing qualities make them perfect for all sorts of weather conditions – even extreme temperatures without losing performance in the process.
Aesthetics
Liners are way better than roll-on paints, and I'll give you that. You can compare them in terms of efficiency or aesthetics; it won't make much difference to your vehicle once they're applied! Both look very similar – even though raptor coatings have their own unique texture. Their dark-colored coating is guaranteed to ensure a good vibe on every ride with budget-friendly pricing too unlike some other competitors who charge heels more for less quality workmanship. On the other hand, the Monstaliner team invested six years into supporting our scientifically superior product backed up by proper.
Suitable Vehicle
As liners are becoming increasingly popular among vehicle owners, it is becoming a must-have for bed liners as well. The applicability of the coating is widespread too. It can be used on both Raptor and Monsta beds, as both brands are compatible with truck beds, jeep, and truck covers.
Installation
After the mixing, check your vehicle for any rusty areas and treat with acid primer if there are signs of rust. Spray according to how much coverage you need – a single coat takes 1 hour while two coats generally require 3-5 hours each before they're dry; touch up all parts equally once this step has been completed so that no part looks more heavily treated than another.
Customer Feedback
Customers are utterly satisfied with this product, which is why it has such a big impact on how they perform in bed! It's also worth noting that everywhere across the globe customers rate these two stars high – proof of great quality for both input and output tone alike. We want to make sure every single one knows what benefits come along during use.
Monstaliner – Best for Flexibility
If you're looking for a coating option that is both flexible and widely available, Monstaliner may be the perfect choice for you. This coating can be applied to nearly any surface, and it's been used on everything from cars, trucks, and Jeeps. Additionally, Monstaliner is available in a variety of colors, so you can find the perfect shade to match your vehicle's style.
Raptor Liner – Best for Durability
Raptor liner coating is designed to withstand the toughest climatic conditions and can be applied on any type of substrate, whether it's steel or wood. It will protect your investment from common fuels such as gasoline that may cause damage over time due to its durability in resisting chemicals like oil spills with more than just an annual worth but up until 20 years before they're gone. This means you won't need new materials every few months while other people do so take advantage today by protecting yourself against these costly expenses.
FAQ
Is the Raptor liner the best?
This product is the best bed liner on today's market. It provides great durability and an easy application process to make sure you get an excellent finish every time. The durable material will last for years if properly cared for while being affordable means everyone can enjoy this quality craftsmanship without breaking their budget either.
How much Monstaliner do I need?
For a light-colored Jeep, you will need 1 gallon of color. If your vehicle is not being covered in an equally dark shade then consider getting two cans to ensure proper coverage.
Final Words
You can now go ahead and decide which one suits your needs best. These two products are king in their own price segment, so it'll be hard to find something better than them when you're on the market for a new one. With everything discussed above, there isn't much difference between them aside from features and benefits. you just have to decide whether or not this product is right for your needs.
Read also: