The Bakflip MX4 is one of the best-selling tonneau covers from Bakflip. On the other hand, G2 is cheaper but more effective. Both have some similarities & differences. In this bakflikspeek, we compare those tonneau covers with as many details as possible. The measurement of both truck beds depends on the size of your pickup.
These two famous covers are G2 and MX4. Both of them are excellent, and users often get confused about which one to choose between the two. Well, I can't tell you who wins in the battle of BAKFlip G2 vs. MX4. But I can surely give you some insight into its details and differences to help you choose.
Bakflip G2 Vs Mx4 With Table
| | | |
| --- | --- | --- |
| Particular | Bakflip Mx4 | Bakflip G2 |
| Definition | We can say that the BAKFlip MX4 is more or less a direct upgrade over the G2. | The BAK Industries G2 hard folding tonneau cover is the best-selling cover from their company and one of the most popular on the market.. |
| Weight | Weight is around 71 pounds | Weight is around 71 pounds |
| Aluminum | Material Aluminum | Material Aluminum |
| Features | It features a matte black finish | It features a glossy black finish.  |
| Design | Close tailgate with the cover down. | Panels automatically latch to both sides of the truck bed. |
| Warranty | Warranty 3 years | Warranty 2 years |
| Install | Weight is distributed evenly and it's easy to install. | The clamp-on installation requires no drilling. |
| Dimension | The product has dimensions of 68 x 23 x 8 inches. | The dimensions of the product are 8 x 68 x 23 inches. |
| Capable | The MX4 is capable of handling up to 400 pounds. | The G2 is capable of supporting up to 300 pounds. |
| Protect | Protect against marks, scratches, and UV damage. | Protect against marks, scratches, and UV damage |
| Price | Bakflip G2's price is around $960-$970. | Bakflip price is around $880-$890. |
Bakflip G2 Vs Mx4: Major Differences
Appearance
The MX4 has a matte finish, whereas the BAKFlip g2 is glossy. Both of these covers have a polished and painted look with chrome exterior finishes. The pro side to the appearance of an MX4 cover is that it will match with most of your truck's OEM accessories such as bed caps and give your vehicle more aesthetic appeal.
Performance
The MX4's tailgate seal is a dual-action that allows you to open and shut the truck's tailgate at any time, no matter whether the cover is on or off. But G2's has an overlapping design like most of its competitors so unless you close your tailgate first, it will be impossible.
Weight Capacity
The MX4 can support up to 400 pounds of weight because it has a foam core with high density. On the other hand, the G2 only supports 300 pounds of weight if you evenly distribute it because its core is made out of standard-density foam.
Warranty
A 3-year warranty on manufacturer's failures is included with the MX4, which can be a good time to keep it for your truck bed cover. On the other hand, a 2-year warranty on manufacturer's failures is included with the G2, but that is less than what you get in an MX4.
Tailgate Seal
There are many tonneau covers in the market that would require you to close the tailgate when opening it. G2, on the other hand, can be opened or closed even with an open-tailgate seal cover. This is not possible because of Mx4's overlap seals over your vehicle's tailgate.
Material
The material of the Bakflip Mx4 Finish is aluminum and it has a matte black finish. On the other hand, The Bakflip G2 is powder-coated aluminum with a matte gray color.
Price
The BAKFlip MX4 is more expensive than the G2. The price of a BAKFlip MX4 is $969.88, whereas the G2 costs only $889.88, so it's a bit costlier than the latter one.
Dimension
Bakflip can be installed on the inside or outside of your vehicle. The Bakflip MX4 has dimensions of 68 x 23 x 8 inches. The Bakflip G2 has dimensions of 8 x 68 x 23 inches.
Bakflip G2 Vs Mx4: Similarities
Weight
The Bakflip Mx4 and G2 both weigh around 71 pounds. The Bakflip Mx4 is a four-wheel trailer that has an open box design for easy loading or unloading of cargo, while the G2 is more like a two-wheeled cart with an enclosed storage area to keep items safe from weather conditions. Both trailers are made out of steel construction which makes them durable but heavy; they also come in different colors such as silver, black, and red depending on the model you select.
Aluminum
The Bakflip Mx4 and G2 both have a Material Aluminum. The material aluminum is an alloy that contains copper, manganese, silicon, magnesium, and sometimes other elements to create the desired properties for different applications. It's often used in aircraft because it's lightweight but strong enough to withstand crashes or impacts with trees or buildings. There are many benefits of using this type of metal including its ability not to corrode easily which means fewer maintenance costs over time as well as being ability to handle higher temperatures without changing shape due to heat expansion.
Protection
Bakflip Mx4 and G2 both protect against marks, scratches, and UV damage. The Bakflip Mx4 is a scratch-resistant film that also protects your vehicle from harmful UV rays while the G2 is an anti-scratch coating for paint protection.
Bakflip Mx4: Best for Capabilities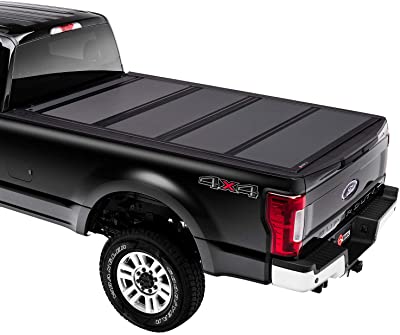 Bakflip Mx4 is the best for those who need to carry up to 400 pounds on its surface. This product has a foam core with high density that can take an evenly distributed weight of up to 400 lbs, as long as it's not more than what the product can hold. The Bakflip Mx4- Best for capable of handling up to 400 lbs, is also easy and quick set up which makes this product great when you're in a hurry or traveling long distances.
Pros
You can close it with the tailgate up or down
The cover is very beautiful and sturdy-looking.
It can also fold completely upright against the vehicle, giving you 100% of the space. 
The MX4 comes with latch housing pieces for increased strength and longevity.
Cons
The raw material used for the locking mechanism is not as sturdy. 
The packaging is often poor.
come with scratches or adhesive marks on it.
Bakflip G2: Best for Quality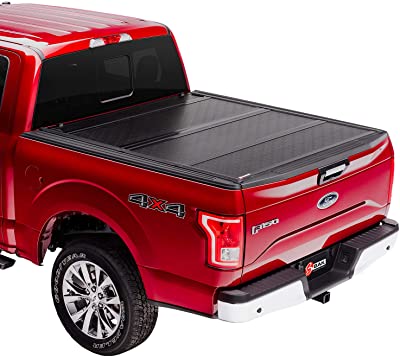 The G2 is a heavy-duty truck bed cover that provides protection against the elements. The design of the product features an innovative, patented installation system and high-quality materials to ensure durability and efficiency in inclement weather conditions. Premium perimeter seals have been installed on this model to designate efficient, weather-resistant protection against outdoor environments.
Pros
The G2 gives you full access to the bed of your truck without obstructing the third brake light. When there's a heavy load.
the G2 when flipping it open and put it back by flipping it over top of the cab. 
Solid propeller rods keep this cover upright, letting users haul huge loads without having to remove any pieces from their trucks. 
The BAKFlip G2 is made with good materials which are UV-resistant aluminum panels that provide another level of protection for whatever you place in its bed.
Cons
The cover does not have a built-in lock system.
Crossbars tend to break.
The tailgate overlaps with the side of the cover.
FAQ
What is the difference between BAKFlip G2 and MX4?
The BAKFlip MX4 features a matte black finish that matches any of your truck's OEM accessories including bed caps and tailgate caps. The glossy black finish on the G2 is designed to match most trucks, but not all. The weight capacity for the top surface of both models is 400 pounds when evenly distributed between them.
Which BAKFlip cover is best?
The BAK MX4 is my favorite tonneau cover. This 4-panel folding design has a strong aluminum construction and dual-action tailgate operation, and you can see the locking pins on either side of the bed.
Is the BAKFlip MX4 worth it?
This bed cover may not be the best for absolute security and protection, but it is quick to install and use. We recommend this as a budget option for anyone who doesn't have anything covering their truck bed. It offers decent weather protection.
Final Words
Bakflip MX4 vs. G2 is a difficult question because both of these covers are excellent in their own way. They have the aesthetics to be used on your truck bed, are made of quality aluminum material, and can handle a good weight capacity for them as well as being hassle-free and easy to install. However, they lack one thing: an extended warranty period. They have a good price for such high-quality items. However, there are slight differences in appearance, performance, weight capacity, price, and warranty. If any of these differences are on your priority list then go for the one.
Read next