Have you found yourself stuck in the Magnaflow vs Borla debate while searching for the perfect exhaust system? It's common though, as their rivalry is on the rise. So, what are the differences between Magnaflow and Borla exhaust systems? Magnaflow and Borla have large differences in their design, construction, and sound quality. 
Magnaflow gets its competitors by producing a straight-through framework, which allows them to use acoustic sound absorbent packing among the pipes. Meanwhile, Borla's specialized poly-phonic and switch-fire systems reinforce T-304 Stainless steel construction. This increases both the loudness and the amount of sound in the air.
So, which one should be your first choice? Here we'll find this by means of a detailed comparison between these two. 
What is a Magnaflow Exhaust System?

A Magnaflow exhaust system captures the gases coming out of the vessel's cylinders and delivers them through tubing out of the vehicle while reducing frustration and stopping the unmusical noise. In simple words, a Magnaflow exhaust system lets a vehicle's engine run without creating an excessive amount of dirt and noise for a fairer price of gas.
What is the Borla Exhaust System?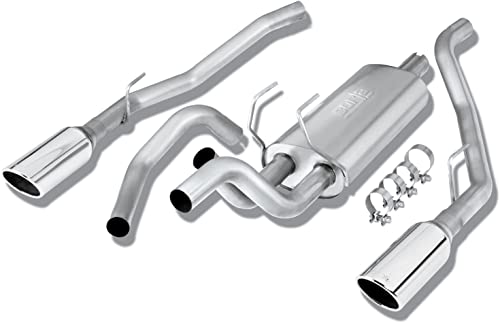 A Borla exhaust system is equipped with a patented, straight-through design to facilitate engine exhaust gas evacuation and increase fresh-air intake. Considering that the system doesn't restrict exhaust gas flow in any way, exhaust gases move through it entirely, allowing the cylinder to receive an additional charge and make more horsepower. 
Borla exhaust systems benefit from the unique design made of T-304 stainless steel. It allows them to withstand harsh conditions as well as ensure a greater lifespan. 
Magnaflow vs Borla Exhaust – Comparison Table
If you're in a hurry, here's our quick look at the main key differences between Magnaflow and Borla exhaust. 
| | | |
| --- | --- | --- |
| Attribute | Magnaflow | Borla |
| Materials | High-flow stainless steel and acoustical packing | T-304 stainless steel, titanium, and carbon fiber |
| Sound Quality | A mid-range whirling or whizzing sound | Louder sound |
| Technology | Acoustical absorbing and straight-through design | Polyphonic and SwitchFire technologies |
| Horsepower Increment | 10-15% power increment | 8 to 12 HP horsepower gain |
Magnaflow vs Borla Exhaust – Head-to-Head Comparison
Regardless of which type of vehicle you drive, making the most of Magnaflow and Borla exhaust systems can assist in enhancing your vehicle spectacularly. But for a more thorough analysis of the most compelling differences between these brands, let's hone in on the vital comparisons found between the Magnaflow and Borla exhaust systems.
Magnaflow vs Borla – Muffler Variations
Your choice of muffler will have a significant influence on the volume of noise your auto-creates. If you need something that will get people's attention, or simply want to increase the volume of your existing exhaust system, your selection should be different. 
Both Magnaflow and Borla provide a vast range of choices, so you might meet each one of your customization needs such as the size of the exhaust pipe if you've got a previous setup. 
Magnaflow is employed to construct automobile parts that consist of stainless steel and contain perforations and enclosed material to produce louder sounds. However, this action won't occur right away, as it will take distance for the unpacking to get to that volume. They classify by type and driving mechanism, as opposed to others, who only have to pick whether you want the exhaust to face the side or rear.
Off-Road Pro: If you're in search of something for off-roading, this will not disappoint. Powered by a lighter design, it increases ground clearance and improves the suspension too.
RockCrawler: Specially designed to work with the Jeep Wrangler, these exhaust systems accommodate aftermarket bumpers from the Off-Road Pro, allowing drivers to enjoy the special attributes.
Competition Series: The series has increased in elevation and has been designed to produce strident external sounds.
MF/Performance Series: This series consists of exhaust systems tailored with muted or softly audible cues to look after a gentle sound balance between the interior and exterior.
Flow tests have been carried out, sound has been made, and a particular element is accessible through Borla exhausts. Assembly-design inspiration led Borla to design exhaust systems for a host of makes and models. 
That is because Borla's construction equipment is designed to make each component match the next one for an unmatched texture. Here is their range:
CrateMuffler: Borla claims this series to be the world's only line of high-performance mufflers designed specifically for sound and improving the power of created and built-engine systems. Although these products are to be used with crates and custom-built engines, they should not be universal mufflers.
Specialty Mufflers: These exhaust systems produce more horsepower and torque for high-performance street driving. Listening to these exhausts demonstrated their superior flow capability by means of independent testing. 
XR-1 Raceline: XVF-1Rs features a patented design with their own microprocessor-based Multicore technology that keeps them operating without interruption all the time. However, they're mostly meant for motorsports applications!
Specialty Mufflers: They feature increased power as well as torque for improved street performance. Their function has been confirmed as long-lasting by T-304 stainless steel and in-house evaluation.
Magnaflow vs Borla – Sounds
How an exhaust system sounds is of vital interest to you to consider. Inside the combustion chamber, hot air evaporates and forms cool air molecules, which are then blown out by powerful pressure through the pipe and cool for the rest of the day. 
The sound you make as you are driving is directly connected to the very cold air reflecting the gases at room temperature. The muffler is an element of your automobile that efficiently avoids noise. Here's the sound breakdown of these two brands:
Magnaflow mufflers wind up being the most efficient option on cold starts, because of the high pitch sounds and the precision at which they draw in the engine noise. 
They feature quite straight-through designs with a high content of the material, which reduces the engine noise, while, at the same time, maintaining a fairly high level of sound. These exhausts are among the best alternatives for this application.
Borla exhaust systems are incredibly popular among drivers who love to roar on race tracks. They whine and grumble rebelliously. However, Borla offers diverse sounds in its different product lines as follows:
Touring Mufflers: In the Touring Muffler series, the streamlined shape of the muffler allows increased capability as compared to other Borla mufflers.
Multicore: The combination of their Murticore mufflers' low-flow sounds and distinctive churn works well. Far less than an S-Type with that recognized growl and a truly tried and tested track record.
S-Type: A very narrow, equidistant space separates the wide-diameter core from the cylindrical muffler wall offering a powerful and throaty sound. 
Magnaflow vs Borla – Horsepower
In practice, the modification of automobiles' exhaust systems diminishes their energy and speed. The obstruction of the end result will help prevent the system from being able to burn the fuel completely. And how efficiently an exhaust system does this job determine its performance. So, which brand should you go for in terms of performance? Let's compare.
Magnaflow mufflers undergo very few restrictions in the exhaust system, permitting fumes to flow through without much issue. Magnaflow has strong exhaust equipment, and from numerous statements, the organization implies that it offers as much as a 10 percent increase in power. As an example, if the horsepower of a fresh car is 180, the upgrade could read 198.
The choking stuttering upon acceleration can be the result of your Volant Cold Air Intake or fixed by installing the Magnaflow exhaust system. It's most likely an issue with your engine's throttle body or catalytic converter. 
A cold air intake coupled with a supplementary exhaust system will permit your engine to breathe better, which will give you enhanced performance. But your vehicle may simply not be able to take in cool air when the temperature is above freezing.
The Borla exhaust profiles are less restrictive than the stock tube. As the rpm drops, the advantages of a more accommodating exhaust system become minimized. There will be a benefit to utilizing the throttle fully open. If the throttle is suddenly opened, flow through the engine will be less restricted, and the harmonics in the headers can be altered to optimize that flow.
The extremely small and large Borla exhausts are configured to facilitate scavenging. As far as they claim, the Borla Research and Development team constantly applies dynamometer assessments to new parts to gauge the potential for power gains. Often, able to recover energies up to 12 horsepower, and sometimes even substantially more.
However, how much horsepower is gained will depend on the efficiency of the fuel management system's equipment set up for the maintenance of the right amount of gas based on the increased size of airflow; as much as 5 to 15 percent is common.
Magnaflow vs Borla – Scavenging Effect
Exhaust gas is taken off an engine cylinder by means of scavenging. Part of the compressed air can be consumed to pump exhaust gases in order to save their whole removal process. Scavenging is the oxidation of exhaust gases from an engine because of which the cylinder needs to be replenished with fresh air. 
To ensure that catalytic combustion in the cylinder is done efficiently, it is essential to efficiently remove exhaust gas. So, you might consider the scavenging effect as well. 
A stainless steel permeable muffler is used in the Magnaflow exhaust system to reduce the speed of the exhaust gas. This allows it to reach full capacity without additional restrictions. As a result, the exhaust gas uses all available space in the muffler.
The Magnaflow Mufflers feature a unique low-pressure wind bracing inside, which effectively boosts fuel efficiency by scavenging even more gas. Some of the Magnaflow Mufflers include a combination of large-diameter perforated tubes and integrated sound baffles that remove unwanted noise and more effectively amplify the engine's horsepower.
The scavenger effect could lead to the next pulse of fuel after a suitably sized Borla exhaust system is installed. Borla exhaust systems are well-designed to ensure this effect occurs. Installing a Borla Exhaust Systems produces in the vicinity of 8 to 12 horsepower. 
It could go higher depending on the precise function. In addition, a Borla Exhaust System also contributes up to 10 horsepower and 16 lb-ft of torque.
Magnaflow vs Borla – Pricing
Hunting for the best pricing for an exhaust system for your car's engine is vital. Standard practice is going for less costly parts. It's a bad bet, because most of the time, less expensive parts are of inferior quality. Take a look at what supplies the best value.
Looking at each company's respective catalogs, you will observe that there is no substantial cost discrepancy between the products available from each vendor. 
Borla products have a much higher price tag than other brands of exhaust systems, but the value they bring more than makes up for it. Magnaflow products are cheaper compared to the products by Borla, but their value is even greater. 
Magnaflow vs Borla – Warranty
Whether you agree with us or not, a brand's credibility, reliability, and excellence can be expressed through its warranty policy. It signifies how confident the brand is with its products. So, we have also compared the warranty policy these two brands offer. 
The manufacturer of Magnaflow® exhaust components warrants its products against blowouts and defects in material, coating, and workmanship for 1 year from the original vehicle owner. The warranty covers stainless steel systems, carbon fiber systems, and stainless steel mufflers, and a one-year warranty on titanium finish systems and black finish systems.
Borla has confidence in their expert services by providing a 1 million miles warranty on their exhaust systems, and a 50-year-old guarantee on their mufflers. This warranty guarantees flaws in materials and workmanship. Borla warrants the black coating, tip finishes, and carbon fiber as well as moving parts, including valves and actuators, for 1 year.
Pros and Cons of Magnaflow Exhaust Systems
Let's briefly point out our findings on the Magnaflow exhaust system's advantages and disadvantages shortly. 
Pros:
Highest-grade stainless steel construction
Perfect for mid-sized vehicles, SUVs, and trucks.
Easy to install
10-15% horsepower increment
Relatively affordable
Cons:
emissions of black smoke
Noises
Pros and Cons of Borla Exhaust Systems
We have also gathered some notable pros and cons of Borla exhaust systems:
Pros:
Signature loud sound
Extremely durable
Customization
Lifetime warranty
Cons:
Magnaflow vs Borla Exhaust – Which is Better? 
Here comes our final verdict. So, which one is suitable for you, Magnaflow or Borla? Proper attention to the Magnaflow exhaust can make it operate in a more powerful and durable way. 
The construction of the muffler consists of a stainless-steel frame to last a long time. In addition to trucks and cars, you feel secure in driving Magnaflow mufflers. They're even quieter than you were hoping for.
No doubt, Borla is an excellent option for vehicle owners seeking an exhaust system upgrade and aftermarket exhaust parts. If you want to lessen the annoying and embarrassing noises of your cabin, you need Borla custom exhaust components or aftermarket exhaust parts.
See also: