The main difference between Hyperco and Swift springs is that Hyperco is specially manufactured for racing situations whereas Swift is made for flat track vehicles. Except that there are a few differences between them.
Spring is an integral part of any vehicle. They protect and stabilize the entire vehicle. Suspension is important in any spring, the better the suspension, the smoother and faster the performance. That is why choosing the right spring is important for your automobile. 
Both Hyperco and Swift are better at their functioning. The former is a well-known racing champion and the latter is known for their lightest weight and satisfying performance in flat track vehicles. In this 'Hyperco vs. Swift Springs' article, you will discover more differences between them. 
Differences in a Table: Hyperco vs. Swift 
| | | |
| --- | --- | --- |
| Comparison | Hyperco Springs | Swift Springs |
| |   |   |
| Function | Provide better suspension, stroke and good at handling situations | Remain consistent during the stroke and provide maximum stroke |
| Materials | Chrome silicon steel, high tensile silicone steel | Proprietary steel alloy |
| Suspension types | Both linear and progressive rate springs | linear rate springs |
| Price | $ 70-76 | $ 100-123 |
What are Hyperco Springs?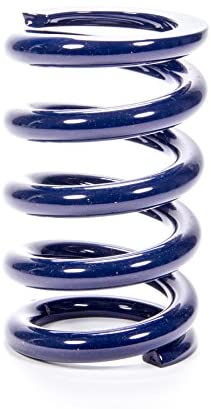 Hyperco is a well-known American supplier of suspension springs for street automobiles, racing vehicles, and off-road and Powersports markets. Since 1965, the company has had a glorious legacy of winning. With the help of the most experienced craftsman, they produce one of the best tolerance springs. Also, they offer both stock catalogs and custom-designed springs. 
The springs have a linearity tolerance of 2% between 20% to 60% deflation rate. Hyperco's resistance to bowing made them the most suitable spring for racing situations, and they have ultra-high travel and optimum body diameter designs. The springs also increase the ride's aesthetics. 
What are Swift Springs? 

Swift is a Japanese spring manufacturing company which has started its journey in 1997. It is a part of the sports division of Tokyo Hatsujo Manufacturing Co. Ltd. The springs are known for their lightweight and durability. Swift offers a wide range of spring collections, especially for daily used vehicles. 
According to the manufacturers, their springs have the most linear characteristics and cost-effectiveness. Since 1998 Swift has been participating in world-known racing competitions. They are involved with many champion teams as well. Their material quality and exquisite design made them one of the top suppliers of suspension springs all over the world, especially in the USA. 
Hyperco vs Swift: Major differences 
Racing Performance 
There is no doubt that both Hyperco and Swift Springs are reputable for racing performances. For a racing spring, design is important and Hyperco's springs are designed in such a way that creates a  suspension motion ratio that optimizes maximum spring assembly to control a wide range of wheel travel. 
Swift racing springs remain consistent throughout the stroke and their lightweight gives the ride some advantages. 
Street Performance 
Specially made for flat roads, Swift Springs maintains a maximum comfort level for street performance. It improves the lower ride height to ensure the Optimal Suspension Geometry. Moreover, the handling becomes easy with these springs. 
Hyperco offers a wide range of suspension springs specially designed for road cars for a specific speed. They are more resistant to bowing. The springs are also designed to fit all types of hardware. 
Customer's opinion
We discovered that customers are happy with the services provided by these two. Customers, on the other hand, feel more at ease purchasing and using Hyperco springs due to their availability and low cost. In comparison to Swift Springs, Hyperco provides more services than your investment.
Advantages and disadvantages of "Hyperco springs vs. Swift springs":
Advantages consist:
Hyperco Springs
Swift Springs
-Tightest tolerance
-Ultra-high spring design
-More resistance to bowing
-Reliable and durable
-More consistent springs rate
-Easy purchase 
-Much lighter in weight
-Cost-effectivenessOptimum stroke
-Offer much linear rate
-Maximum traction
-Useful cornering  
It is not possible to manufacture any product which has no disadvantages. The limitations of Hyperco and Swift include:
| | |
| --- | --- |
| Hyperco Springs  | Swift Springs |
| -Have more weight than Swift springs | -A bit pricey  |
Things you should know:
It is essential to scale your racing car in addition to using a good spring. A minor spring adjustment can have a significant impact on your racing car. You should get a spring rater based on your racing style. Check all of your springs the same way and record your results to determine whether or not they are in good working order.
Hyperco or Swift, who is the winner?
Hyperco springs, in the opinion of experts, are superior to Swift springs. Because the suspension is crucial in extreme driving situations, especially during racing, hypercap springs are the greatest at it. Also, the better the suspension the faster the performance.  Besides that, Swift springs are also quite good at their job and have maximum durability against spring height loss.
Final words
To narrow it down, we can say that the major difference between Hyperco Vs. Swift spring is that- the former is used mostly in sport-power vehicles and the latter is used in everyday conventional vehicles. Whichever you choose for your automobile, it will be a worthwhile investment.
See also:
References: