Generally, vehicles have a lot of parts. These come in all shapes and sizes. Their importance is also vital in terms of balance and smooth ride of vehicles. In the case of these sensitive parts for your automobile, you would be better off buying the best product to get the best service out of your vehicle and also for safety. 
Another one of these small parts is the ignition coil. It is a direct part of the ignition and start-up of your vehicle, also called the ignition system. In brief, ignition coils are in the making for turning small amounts of current into large ones. This large amount of current is then used by the spark plugs, which give the maximum effort to ignite the fuel. Then, the engine of your car starts up. In this case, misfires might happen. In DENSO ignition coils, it is very rare. That's why I put the Denso Ignition Coil Review with pros and cons.
It is pretty obvious that the ignition coil is a small but vital part of your vehicle. Without it, starting your car or truck is impossible. Also, these generally have a higher price. So, it would be best to get the service at the price you are paying. There are many brands such as Bosch and DENSO that produce top-quality Ignition coils. Though, DENSO Ignition Coils generally has an upper hand in most of the competition in terms of Ignition Coils. 
Denso Ignition Coil Review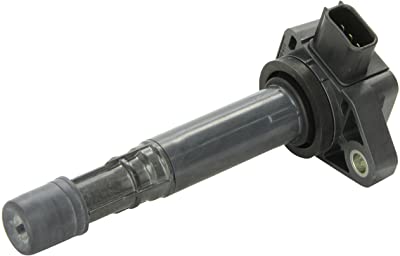 Denso is one of the best brands of automotive parts. They provide overall great quality, durable ignition coils. Moreover, DENSO was the first brand to create compact stick-type ignition coils which is a great convenience. Because of its small size and thin shape, it saves a lot of space. With the help of some innovation, it does not need any high-tension ignition cable either. Fitting and installation are easy to do as it fits perfectly into their place. Moreover, it has DENSO micro-sized driver circuits and diagonal inductive winding, which helps produce the highest amount of power possible. Famous automotive vehicle manufacturers and DENSO have been also partnering up to create the best and most compatible products. Regardless of the type of configuration, all the products are made with expertise.
 They are made with specific applications and then special engineers improve the product along the way. The products overall are consistent and smooth and give you the best product for the price. Also, DENSO products generally come at middle to high prices and also give the best quality. 
Features of DENSO Ignition Coil
Design
As for the design, these ignition coils are made from the best materials possible for an ignition coil. Though, surprisingly the prices stay flat. The Denso Ignition coils are divided into 4 main parts. The first part is the compact driving circuit, which helps in making out the most amount of power possible. Superior quality components and materials help the ignition coils last much longer, and they are also tested and inspected. The diagonal windings on the ignition coils help a lot when reducing Bobbins, Size, and weight. Overall, the design and build make up a light and small ignition coil that can create a strong and powerful product.
Coil Efficiency
In brief, the DENSO ignition coils have efficiently built-in coils that perform most of the work. The cylindrical top also removes the need to generate high voltage. Instead, the work is done smoothly and easily without wasting much power. This also helps in reducing misfiring in the ignition coils, which is always a hassle to deal with. It also eliminates the need of using high tension ignition wires. In general terms, high-tension cables or spark plug wires are lead wires which are also called HT leads. These connect the distributor, and ignition coils in each spark plug together. These are needed in some types of engines. So, in the case of DENSO ignition coils, these are not needed.
Price 
In the case of every product, the price of it matters a lot. Moreover, it also determines how the quality of the product will be. Budgeting is also another factor to look into. In the case of Ignition coils, there is a wide window of prices. For 8-piece packs of ignition coils, they can come anywhere from 100 to 220 US dollars. For better quality ones, they come in at 140 and more US dollars. For comparison, Bosch 6-piece ignition coils are about 140 US Dollars. This means a piece comes in at about 30 US dollars, though dealerships will charge more.
For AC Delco, 6 pieces come in at about 170 US dollars and logically, each comes at about 35 US dollars. At dealerships, they might go into the 50-dollar region. For DENSO ignition coils, the 6-pack set comes in at about 132 US dollars. Individually, they come in at about 52 US dollars at dealerships. For the quality, this price is more than acceptable. 
Durability, Compatibility, and temperature control 
In the case of durability, the ignition plugs depend on their use and build quality. Generally, the ignition coils can go anywhere from 80000 to 120000 miles before needing a change. In the case of DENSO ignition coils, these can go about 100000 miles before needing a change. In time calculation, it can go for about 2 years or more before needing a change or repair in your ignition system. 
Compatibility also plays a huge part in buying ignition coils. In the case of DENSO ignition coils,  they are directly partnering with many automotive manufacturers. For example, they have been making ignition coils to fit directly into Toyota vehicles. The Toyota Land Cruiser is 4.7L, and the 2002 Toyota Tundra is 4.7L, and such vehicles are great for the DENSO ignition coils. 
Generally, ignition coils do not have any problems with changes in weather. They fit into a part where heat is common. Though, some ignition coils have trouble and misfire in some colder weather.  Because of the great overall build quality of the DENSO ignition coils, they do not have any problems in any weather variations. 
Pros and Cons of DENSO ignition coil
Pros 
Small and compact design: The design and the body of the DENSO ignition coils are one of the best ones in the market now. These are small and compact, which makes them easy to fit and light. They are easy to handle and install, which makes them more user-friendly overall.
Great build and material: In the case of the usage of the right materials, DENSO does a great job. They have chosen light yet powerful components which will lighten your work but also provide the service needed.
Powerful Ignition coil: The DENSO ignition coils can generate a great amount of power without using much effort. They have a driver circuit at the top of the coil to generate as much power as possible using a small amount, which makes the car run smoother. Also, they have special cylindrical technology which eliminates the need of using high-tension wires, which can be a great hassle overall.
Official partnering: Because DENSO is partnering up with popular car manufacturing brands, the compatibility of the DENSO ignition coils increases very much. This can be a huge help while choosing which one to buy for your vehicle.
Cons 
Price: though the price is not generally high, there are definitely cheaper options to go with. However, there are definitely quality differences between the two. Though the DENSO ignition coils have a higher price than some other ones, it is definitely much better in terms of service and quality. 
Benefits of DENSO Ignition Coil

It overall has a great price-to-quality comparison. 
Durability is high and has great build quality and design. 
Small in size and weight, it makes them easier to handle and install.
Provides the maximum amount of voltage possible and is powerful overall.
It is compatible with the most popular brands of Vehicles. 
Customer Reviews
Generally, it was very hard to find some negative reviews on this product. On the ratings, most of the customers have been rating the DENSO ignition coils 5 stars, with almost 85 percent of the customers going for 5 stars. The other 12 percent had 4 stars, while the others only gave ratings without any comments.
One described, "Not the cheapest ignition coil but it is definitely the best value. It fixed my misfire almost instantly and my vehicle has been running smoothly ever since. Much better than some other cheaper options and is cheaper than other same quality ones as well. Great deal!" – Hamish.
Another happy customer said, "The best ignition coils for the price. It has great packaging and quality, and also feels easy to install. I have been running it for about 1 and a half years now with about 93000 miles, does not seem like it will stop anytime soon. It has not produced any misfiring either, an amazing product overall." – Mark.
Though, a rather unlucky customer said, "Had a misfire and some packaging issues, the others were very good though. The price could have been lower but it is a good product overall." – Harry.
Final Word
As we can see, the DENSO ignition coils are very good ignition coils. They are small, well made, provide a great service and also reduce your hassles. The price for the coils is generally higher than other cheaper ones such as MAS Ignition Coils, but they are definitely much better in quality.  So, before buying, check your compatibility with the vehicle of your choice and have a great deal!
See also: