Bilstein Shocks are one of the best brands in aftermarket shocks. They have been producing high-quality shocks for over 50 years and their products provide a better ride than other brands on the market. Bilstein engineers use cutting-edge technology to design and manufacture all of their products, which is why they're at the forefront of innovation when it comes to automotive suspension components.
They are also made for all sorts of vehicles, whether it be a car, truck, or even motorcycle. The shocks can be found on cars like Bentley, Range Rover, and Mercedes Benz because they know that these shocks will keep their customers happy. These shocks are perfect because they offer performance suspension with increased range to reduce bumpiness and swaying.
When choosing to buy a shock or Bilstein shock, it is important to know everything about Bilstein's product. From how they work and their benefits compared to the competitors, let us take a look at each step along the way.
What is a Bilstein shock?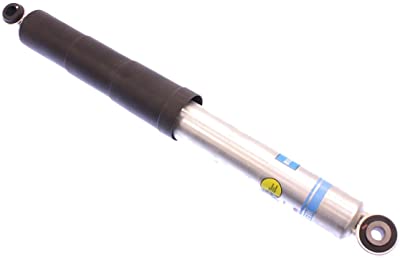 A Bilstein Shock is a type of shock absorber. It's often used in automobiles, but it can also be found in other machines like construction equipment or motorcycles. The most common application for this product is to help control the ride height and increase vehicle stability.
What's the difference in Bilstein shocks?
There are many different options on the market and it can be hard to choose. You could go with Monroe or KYB for an entry-level option, or if money isn't an issue then Bilstein is the way to go. They offer models that range from performance-tuned shocks for off-road use all the way up to premium shock absorbers for luxury cars. For everyday driving in any weather conditions, try out their Sport line of Bilstein shocks.
Why is Bilstein shocks better?
Bilstein shocks are better because they have higher quality, and they last longer. The shocks on your car come in various sizes, depending on the make and model of your vehicle. They provide you with a smoother ride by keeping your tires from bouncing off of bumps in the road. 
Bilstein shocks are an ideal choice for most drivers. They offer a more comfortable ride, improved handling and stability, better steering response, reduced body roll, and lower noise levels. What's more, is that Bilstein shocks last longer than other brands on the market.
How long do Bilstein shock absorbers last?
The Bilstein shock absorber is a common and trusted brand in the automotive industry. If you have a Bilstein shock absorber in your car, it will generally last between 60,000 to 100,000 miles before needing replacement.
Is Bilstein shocks hydraulic?
Yes. Every shock has a hydraulic shock, but the Bilstein B4 strut is a mechanical-hydraulic strut, which combines a high-pressure gas strut and a conventional oil-filled coil spring to provide precise damping control for improved handling and ride quality.
Is Bilstein shocks good quality?
This 5-star product is a must-have for anyone who cares about their ride. Made with the highest quality materials, these top-of-the-line off-road shocks help you drive through any terrain. With an impressive 4.7 out of 5-star rating after over 100 reviews, there's no going wrong with this purchase that will deliver great performance and exceptional value to your vehicle.
How do I choose Bilstein shocks?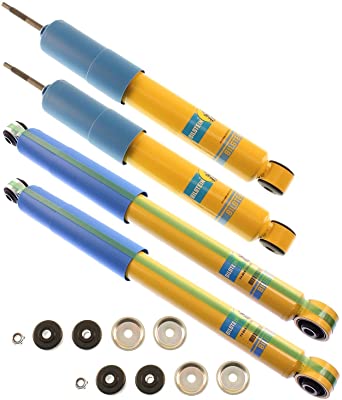 To choose the perfect Bilstein suspension for your car, you need to know what kind of driving experience is best suited. Bilstein offers a variety of suspensions that vary between vehicle models and drivers' preferences: shock absorbers range from B2, B4, B6, B8 with differences in performance based on type, model year, or level.
These are replacement shocks, which means they will be used if your car fails its MOT. Either B2 or B4 can be chosen depending on what you need.
The Bilstein B6 and B8 shocks are great if you want to improve vehicle handling or offset a low ride height. The B6 is ideal for those who often tow as it's perfect for maintaining an OEM-level suspension, whereas the B8 can handle offroading with ease because of its higher gas pressure which maintains optimum resistance against compression despite prolonged periods on rough terrain.
If you have lowered springs, then go for B8. The shortened damper is suitable to use with lower car suspension only and it's called the B8 dampers.
Before buying Bilstein shocks, some notable things to consider
The difference in price between the two models, B4 and B6 are significant. This occurs because of their different construction methods for dampers. The B4 standard model uses twin-tube while more expensive ones/B8 uses mono-tube designs to improve performance on the road surface.
If you want to retain your ride comfort, go with B4. You'll notice a significant difference if you switch up to the firmer suspension offered by fitting in B6.
If you are changing your shock absorbers, always change a pair on the same axle. This is important because shocks do wear out and it's better to have one new and one worn so that both sides experience similar conditions.
How do Bilstein adjustable shocks work?
The front of late-model trucks and SUVs are leveled by struts, which come in various shapes.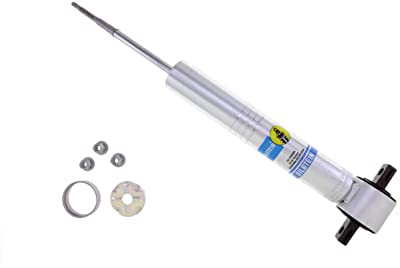 The coil spring collar of the Acura MDX changes between factory height and leveling height.
With Bilstein struts, the snap ring sits in multiple grooves and then a coil spring collar is placed on top of it.
When the car sits on non-preloaded coil springs, it settles more than if it was sitting on preloaded coil springs.
Preloading a coil spring increases the coils of the springs and helps ride quality become more firm.
If you do any offroading, I would still recommend spacers for your leveling kit. This is because there will be no compromise with droop travel if the shock towers are at their limit.
Related: Read It Before Choosing Bilstein Shocks For Truck
What is Bilstein B6?
Bilstein B6 is an uprated shock absorber with a sporty ride, but will not lower your car. They are monotube high-pressure gas shocks and have been extensively developed to give consistent performance.
Is Bilstein a monotube B6?
Bilstein B6, is a type of damper used in shock absorbers and suspensions on cars that utilize upside-down monotube technology. This allows the piston rod to be installed at the bottom of the shock tube body where it houses low friction bearings which allow for wear resistance and free movement.
Is Bilstein B6 comfortable?
The BILSTEIN B6 is the superior option for those who want to travel on bad roads with their heavy cargo. With optimal handling and excellent stability, it will not be difficult to handle your vehicle in challenging conditions at all times.
Is Bilstein a 5100 monotube?
The B8 5100's monotube design and patented digressive valving will confront these demands. Loaded or unloaded, the shock absorber instantly reacts to changing road inputs for a stable ride with comfortable control.
What's the difference between Bilstein B4 and B6 shocks?
The difference between Bilstein B4 and B6 shocks is in the level of dampening. The b6 has a softer compression rate than the b4, which makes it suited for rough terrain or for people who need to travel off-road. It also uses more oil than the other models, so you need to keep an eye on that if you're going to be driving at high speeds over long periods of time. On the other hand, The b4 is better suited for higher speeds and city driving where there are fewer unpaved surfaces.
Are Bilstein B6 better than B4?
The Bilstein B6 has more than double the gas pressure than that of the standard models. This gives it an advantage when dealing with larger bumps on roads because its internals is better able to absorb these forces without becoming damaged.
What's the difference between B6 and B8 Bilstein shocks?
The Bilstein B8 is shorter than the B6. The manufacturers, however, recommend it to be used with lowered suspension from a car manufacturer like Mercedes AMG models because lowering springs are also shorter than original equipment (OE) springs.
Are Bilstein 4600 and 5100 the same?
On a daily driver and commuting vehicle, we opt for the 4600 series shocks because most drivers probably wouldn't notice a difference between it and the 5100. The only real differences come if that same vehicle has larger wheels or is lifted from factory specs. In this case, having proper valving in your shock absorbers to handle an increased unsprung weight comes into play with our 4600 series shocks making them more appropriate than those of its higher-numbered counterpart which benefits only when these conditions are met as well.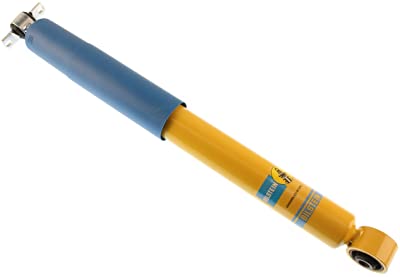 | | | | | | | | |
| --- | --- | --- | --- | --- | --- | --- | --- |
| Shock | Size | Materials | Polish | Piston Size | Rod Size | Rod Materials | Best For |
| 4600 | 1.95″ | Steel | Painted | 46mm | 14mm | Chrome Plated Steel | OEM / Hwy |
| 5100 | 1.95″ | Steel | Zinc | 46mm | 14mm | Chrome Plated Steel | Hwy / Offroad |
Related: Bilstein 5100 Shock Review- Is It Worthy?
Which is better Koni or Bilstein?
Shocks are the unsung heroes of your car. They absorb bumps, jolts, and sudden movements that you usually don't notice until they're gone, but with KONI's adjustable rebound shocks for a smoother ride on any road conditions. Bilstein is an even better choice because it gives a smooth comfortable drive without having to compensate or compromise at all.
Which is better Bilstein or Sachs?
Sachs shocks are a little bit cheaper than Bilstein, but they aren't as stiff or comfortable. If you want to save money, go with Sachs, if comfort and stiffness are what matter more to you choose the higher-priced Bilstein.
Are Bilstein shocks better than KYB?
A lower-end shock absorber, KYB shocks are better for cornering and a bit more comfortable compared to Bilstein. They do not last as long though which makes them less ideal off-road. Corner strut assemblies from both provide an excellent value while the overall ride quality of their higher-priced counterparts is smoother with Bilsteins leading by a small margin due to their added durability in tough terrain conditions.
Are Bilstein shocks better than Monroe?
Monroe shocks are ideal for casual drivers on a budget. They also work great with sedans, but their Bilstein counterparts offer high-performance shock absorbers that can be used in light trucks, heavy vehicles, and offroad vehicles as well.
Are Bilstein shocks better than rancho?
Both companies keep their exact PSI numbers under wraps, but we expect Bilstein to be closer to 200 PSI while Rancho is around 150. Higher PSI typically translates into a firmer ride due to internal shock pressure which affects valving and damping characteristics.
Are Bilstein shocks better than fox shocks?
For the most part, Fox shocks are firmer than Bilstein. This is due to their more lightweight aluminum bodies that dissipate heat better.
Are Bilstein shocks better than OEM?
OEM shock is the cheaper alternative to Bilstein. With a lot of comforts and an easy price tag, OEM shocks provide an exceptional experience compared to pricey aftermarket alternatives like Bilstein. Overall, Bilstein shock provides excellent service life than OEM even it is more comfortable.
Are Bilstein shocks better than stock?
The Bilstein shocks are a great shock and replacement for the stock shocks. The handling is much better, it rides easier on bumps, and will last longer than stock shocks.
Final Words
If you are in the market for a new set of shocks, don't settle for less than quality. Bilstein shock is engineered to be durable and comfortable while providing reliable performance even after years of use. These key features don't make it an excellent choice when compared with Fox Shocks which can provide higher comfort as well as higher life comparisons.