When selecting between a TRD Exhaust System and a Stock Muffler System for your vehicle, it is crucial to make an informed decision due to the notable importance of the exhaust system. This comparison guide is intended to help you make a well-informed selection. The primary distinction between the two systems is the sound they emit and their overall appearance.
It is clear that TRDs are renowned for their appealing design, as well as their ability to enhance the sound of a stock exhaust. Interestingly, these two mufflers are often considered the best of their kind, garnering positive reviews from users. On average, these mufflers provide an excellent level of performance.
To make an informed decision between these two options, it is advisable to read the article in its entirety. Through the comparison tables and in-depth analysis provided, the best choice will become evident.
What is Tundra TRD Exhaust?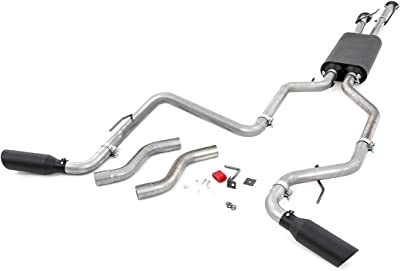 Tundra TRD Exhaust is an aftermarket performance exhaust system designed for Toyota Tundra pickup trucks.
This exhaust system is engineered to increase torque and power for improved performance.
The Tundra TRD Exhaust has a unique, aggressive sound that is sure to turn heads and draw attention. Its stainless steel construction ensures that it will last for years and provides superior corrosion resistance.
The exhaust system is designed to reduce backpressure and maximize exhaust flow to improve engine performance.
The straight-through design of the exhaust reduces restriction and boosts horsepower and torque. The Tundra TRD Exhaust also features a polished chrome tip that adds a stylish look to the truck.
What is Stock?
The stock exhaust is the factory-installed exhaust system on a motor vehicle.
It is designed to balance the air-fuel ratio and facilitate the vehicle's operation. Stock exhaust systems typically include a manifold, pipes, a muffler, and a catalytic converter.
The manifold is responsible for collecting exhaust gases from the cylinders and directing them toward the pipes. The pipes, in turn, transport the exhaust gases toward the muffler, which is designed to reduce the noise produced by the system.
A catalytic converter is usually included in the stock exhaust system to reduce emissions of harmful gases. This component helps the vehicle meet emissions standards, ensuring it meets necessary regulations.
Read also: Tacoma TRD Exhaust vs. Stock – Which Exhaust Is Better?
A Side-by-Side Look at TRD Exhaust vs. Stock Exhaust
When making an important purchase, such as a muffler or exit pipe, it is advantageous to be well-informed. To this end, a comparative table has been organized to provide a clear understanding of the differences between TRD exhaust and Stock exhaust models. This should prove beneficial in the selection process.
| | | | |
| --- | --- | --- | --- |
| Key Factors | TRD Exhaust | Stock Exhaust | Who's winning? |
| Exhaust Types | Dual or double pipe | Both single and dual are available. | Stock  |
| Installation time | Almost 20 to 30 minutes | Depending on the task, you can usually accomplish it in a speedy manner. | TRD Tundra |
| Appearance  | Crafted with rust-free stainless steel, this exhaust elevates any vehicle's look to the next level of gorgeousness. | This product is crafted from 409-series carbon steel, providing a look distinct from the popular TRD Tundra. | TRD Tundra |
| Improve sound | This deep, noisy soundscape excels at blocking out unconventional noises. | By making the circumference of a pipe thinner, one can unlock an incredible audio improvement. | Stock |
| Pipe diameter | The Tundra Trd has a generous diameter ranging from 2.5" to 2.75", ensuring reliable gas extraction for effortless operation at all times. | The exhaust pipe has a diameter not exceeding 2.25" to 2.35". | TRD Tundra |
| Key features | These products are designed to optimize back pressure, fuel economy, and engine performance. | The audio experience is top-notch with this feature, making it a powerful tool to dramatically amplify sound quality. | Same  |
| Suitability  | A variety of automobiles, including trucks and cars. | This motorized exhaust system provides exceptional sound quality and can be easily installed in any vehicle. | |
| Size or shape | The increased diameter guarantees that this outlet pipe is larger than the Stock. | In comparison to its counterpart, it is relatively small. | TRD Tundra |
| Weight  | At under 30 pounds, the item is deceptively light. | The upper weight capacity is 10 pounds (4.5 kilograms) and the lower weight capacity is 17.6 pounds (8 kilograms). | Stock |
| Construction material | This stainless steel product has been finely finished and is rust and dust-resistant. It features a black chrome tip for enhanced aesthetic appeal. | The 409-series carbon steel used in this tailpipe offers superior performance compared to other grade materials. | TRD Tundra |
| Life expectancy  | This exit pipe is a long-term solution; with proper maintenance, it's designed to stay in place for over 5 years. | Generally, this kind of exhaust system has a life expectancy ranging from 40k to 80k miles, with an average shelf life of 3 years. | TRD Tundra |
| Overall performance | The improved horsepower, fuel efficiency, and longevity demonstrate satisfactory performance. | The standard muffler delivers an ever-improving performance, boasting enhanced sound quality, boosted engine power, and lower fuel consumption. | 60/40 |
| Costs  | The cost typically falls between $700 and $900. | The estimated cost range is from $300 to $1,200. | TRD Tundra is more affordable |
TRD Exhaust vs. Stock
Pipe Diameter
As the TRD exhaust pipe has a larger diameter, its performance is remarkable compared to that of stock. With an enhanced radius and circumference – more than double the stock's size- it can quickly get rid of noxious emissions with greater efficiency. This significant difference between their diameters gives us reason enough to validate why the Tundra TRD muffler would be our ideal choice for reliable service in terms of emission control management.
Weight And Length
When choosing an exhaust system, weight and length are critical components in a successful installation. A lightweight muffler is quick to install while a shorter length will ensure that gases can reach the combustion chamber with increased speed – thus improving engine performance. The TRD exhaust model offers better-than-average results but requires more time for fitting when compared to stock systems; ultimately indicating that stock may be the best option after all.
Pipe Bends
Though crash bending is an efficient technique for car manufacturers, Stock does present some obstacles that affect performance. Fortunately, TRD exhausts offer increased efficiency through their use of mandrel bending: a specialized process that maintains the diameter of piping—allowing air and fuel to flow easily while keeping your engine running smartly.
In Terms Of Producing Horsepower
Seeking more power from your engine? Investing in a quality exhaust and air intake system can help you reach it. The TRD Performance Exhaust has been tested to deliver optimal acceleration while the associated Air Intake System ensures your motor maintains its horsepower, as well as prevents excessive emission of harmful gases by regulating the fuel concentration rate accordingly. On the other hand, stock systems achieve similar results but tend to come up short on torque power when compared with their aftermarket counterparts.
Fuel Economy
TRD exhaust pipes help maximize fuel efficiency and economy, providing up to 20 gallons saved per mile. In comparison, stock exhausts have a much less impressive output in terms of mileage which makes the TRD an ideal choice for those looking to save money at the pump while still taking advantage of other features offered by its design.
Appearance Or Aesthetic
TRD's air intake system is the clear choice for superior performance and impressive aesthetics. The Tundra muffler utilizes 100% rust-resistant stainless steel with a stunning chrome finished tip, while stock systems are constructed of easy-to-corrode 409 series carbon steel that fails to impress visually or contribute positively towards car longevity.
Sound Quality
The stock exit unit can have a huge impact on the sound of your engine, however, for those seeking more than this to achieve an enhanced result, the TRD Tundra may not be up to the task. With its smaller diameter pipe allowing slower delivery of increased reverberation and amplified tones, you are sure to get that added boost in sound quality you crave from any endeavor.
Price Range
The TRD exhaust system offers an economically attractive upgrade for Toyota Tundra owners, priced at a maximum of $900 including the full installation cost. Comparatively, stock alternatives can be twice as expensive.
Which Is the Best Choice for Your Next Ride?
The tundra and stock air exit pipe are two distinct exhausts, each with its own pros and cons. If a long-term option is desired, the superior choice would be the Tundra. However if sound levels take priority over durability, the stock air exit pipe could provide you with some relief for those noisy occasions.
Conclusion
Choose the TRD Exhaust for that extra boost of style, or go with Stock to ensure engine performance longevity. Whichever you choose, make sure it's a tactical decision designed to keep your car running smoothly and steadily!