Prestone vs. Blue Devil, there is not much difference when it comes to checking out the better Radiator Flush for you. Even in the case of the Prestone and Blue Devil radiator flushes, there are fewer differences. Mainly, the brand differs of course. 
Some other differences would be the size and quantity that the flushes come in, the type of duty and cleaning it does, and the price of course. Most importantly, the main difference is that the Prestone has a heavy-duty ability, which the Blue Devil lacks. However, the Blue Devil comes in a bigger bottle than the Prestone Radiator Flush. 
Prestone vs. Blue Devil radiator flush In a Table 
| | | |
| --- | --- | --- |
| Product | PRESTONE RADIATOR FLUSH  | BLUE DEVIL RADIATOR FLUSH  |
| Definition  | The Prestone Radiator Flush is a nontoxic and non-acidic cleaning Flush for vehicle radiators.  | It is an economical choice for a great Radiator Flush, generally, it does all the work well.  |
| Brand  | It is made by Prestone. | Blue Devil manufactures these flushes.  |
| Compatible vehicles and surfaces | It is compatible with all vehicles and surfaces. | High mileage vehicles are its strong point, though it works great with other vehicles as well. |
| Size  | It comes in a 22oz or ounces bottle. | It has 32oz or ounces of substance in it.  |
| Price  | It comes at 6 US dollars per piece.  | It comes at 7.49 US Dollars per bottle.  |
What is Prestone Radiator Flush?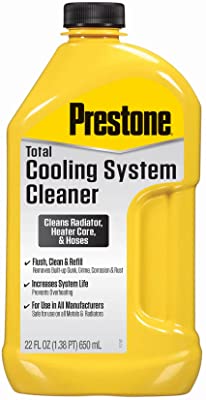 The Prestone Radiator Flush is a popular substance when it comes to cleaning your radiators effectively. It is generally compatible with all vehicles and surfaces. These are conveniently non-acidic and non-acidic liquid flushes. They are also amazing at cleaning and scraping off heavy metals, debris, and all sorts of dirt that sit idle in your radiators. It lowers the PH level of your vehicles and also causes less acid and corrosion. They generally come in 22-ounce bottles. Also, they are able to service heavy-duty parts, but it requires the purchase of two bottles. However, the general duty use does all the work well.
Pros 
It consists of chelating ions to clean dust, rust, and all sorts of heavy metals and debris. 
Works with all types of coolants. 
It is nontoxic and nonacidic. 
Light and has heavy-duty features. 
Cons 
The heavy-duty features require the purchase of two bottles. 
It is pricier in comparison and quantity. 
What is Blue Devil Radiator Flush?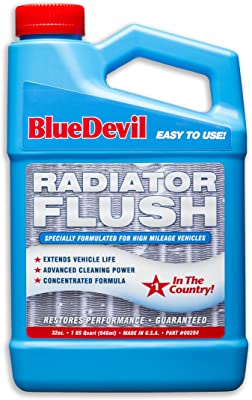 The Blue Devil Radiator Flush is another popular and well-made Radiator Flush to clean off the dirty pipes of your radiators. It is comparatively more economical than the Prestone flushes. They are very good at dealing with heavy mileage vehicles and radiators. They also have very clear and straightforward instructions on their bottle and online which help greatly. They come in 32 ounces bottles, which is amazing for their price of 7.49 US Dollars per bottle. The size of the bottle defeats the need for the purchase of another bottle, which is convenient. Though, they are unable to do heavy-duty cleanings.
Pros 
Comes in a larger quantity and size. 
It is more economical in comparison with the Prestone. 
Clear directions are provided. 
It is generally affordable.
Cons
Prestone vs. Blue Devil Radiator Flush: Differences
Size 
Generally, in the case of buying Radiator flushes, the sizes of the bottles matter largely. In short, the Blue Devil wins in this case as it has over 10 ounces of extra substance in it, which helps it be the more economical choice. 
Price 
In the case of price, there is not much to discuss either. The Prestone comes in at 6 dollars but has a smaller bottle and also requires a second bottle for better or heavy-duty features. The price for the Blue Devil is a Dollar and a Half higher, which explains the bugger bottle for the product overall.
Duty 
The duty of a radiator flush or any type of cleaning liquid is the type of duty or service it gives. The general or standard service will take care of most of the gore for you but the heavy-duty is a specialty. The Prestone in this case has a heavy-duty factor that can remove the stronger or heavier metals and grease from your cooling systems. On the other hand, even though the Blue Devil will give you a good service, it does not exactly have the heavy-duty feature.
Chelating 
Again, another feature that the Prestone wins over the Blue Devil. The supercoating feature is when specific ions bind to heavy metals in your radiators, making them scrape off or flush out. It generally gives off a cleaner and smoother product. In this case, the Prestone has the feature but the Blue Devil falls back.
Prestone Radiator Flush: Best Overall 
Taking into all considerations, the Prestone does not have much of a weak point at all. The price is more than affordable, it is compatible with all vehicles, it is non-toxic and non-acidic, and it does not cause corrosion. It also cleans very well in terms of heavy metals and debris and also has a great heavy-duty feature. Though, it generally has a smaller bottle than the Blue Devil, even though 22 ounces is good enough for one vehicle. 
Blue Devil Radiator Flush: Economic Choice 
The Blue Devil Radiator Flush is great for economic and overall purposes. It comes in a huge bottle of 32 ounces which is more than enough. The price is also generally affordable and low in terms of Radiator flushes. Moreover, it has very clear directions provided on the bottle and also online, which is a convenient help in terms of newbies. It is also very good for high mileage vehicles, though 9t 9snt made for heavy uses and heavier metals. 
Final words
It is clear that both these flushes are great at what they do and both of these have advantages and disadvantages. In terms of overall service, the Prestone would be definitely a better choice, and for better quantity, the Blue Devil will also do the deed. Again, it depends on what you are looking for in a coolant of Flush, so pick wisely.
Read also