If you want to have a smooth ride till the end, your car deserves the best struts. There are lots of suspension parts available from different brands. But MostPlus came out the best in the market. This MostPlus struts review will help you to figure out all the information about this brand and understand in which vehicle you need to adjust these struts.
MostPlus provides unique and advanced feature-based auto parts like struts, shock absorbers, coilovers, coil springs, steering systems, bushings, bearings, joints, and many more for your cars. These struts are strong enough to ride on uneven surfaces or snowy roads trouble-free.
Struts and other suspension components of the vehicle play a significant role in lessening bouncy and over-bump problems. The most important and soothing thing is, that struts make your car free from uncertain damage. Also, they absorb bumps and support the weight of the vehicle.
Though struts are the most important parts of the car, these can be broken or damaged after a few months or years. So, in this regard, you need to change them immediately to get the utmost fun in driving. However, to keep your worries in mind, MostPlus provides complete strut assembly for the front position of your car.
Most importantly, before replacing the new and sensational MostPlus struts, you need to know what types of cars are compatible to take these. These 2-pack struts are compatible with the 2007-2009 Lexus ES350, Toyota Avalon, Toyota Camry, and Toyota Solara. You can install them spontaneously. MostPlus struts are easy to install because of provide all the necessary hardware and installation tools.
What is the MostPlus strut?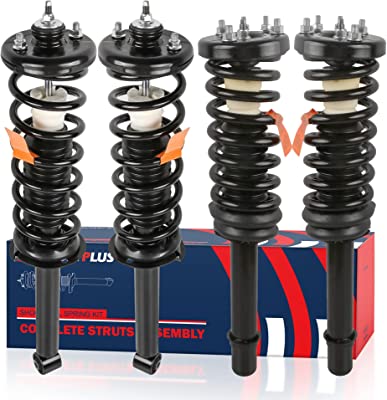 MostPlus is a renowned brand that has provided high-quality suspension components for many years. They provide front and back struts and shock absorbers.
These struts are competent to adjust all of Toyota's latest cars and Lexus cars. It provides sensational struts and coil spring assembly.
The OEM parts No. are 172307 and 172308. Before changing the old one with the MostPlus struts, make it fit perfectly on your car. However, if you need to change your old or breakable struts for better riding, you can effortlessly opt for the MostPlus struts.
Who is MostPlus strut for?
MostPlus pair front strut absorbers are a great option for those who want to make their ride enjoyable and hassle-free on uneven surfaces or snowy roads. In addition, struts help to overcome bumps and bouncy problems while driving in rough terrains and extreme trails. Front strut absorbers help to
Absorbs road bumps and bouncy problems:  If your struts are good, you can overcome bumpy and bouncy problems. Struts can help to get the finest ride even if you are driving your car in the worst conditions. Superior bearings and the top mount allow you to handle it like a breeze.
Protects the tires from uncertain damage: This strut works like a pro. It keeps the vehicle's tires in a better position. Plus, it reduces unusual friction between the road and the tire. This is why tires last longer and provide an unconditional ride all the way.
Lessen any kind of road deformities: Good struts help to ride comfortably. Also, they help to ride smoothly on uneven surfaces. Additionally,  swagger lessens all kinds of road deformities.
Keep the car functionally fit: If you want to make your ride enjoyable, then good struts do all the hard work. Car suspension parts like struts and shock absorbers are important for having a perfect ride. Because deteriorating struts ruin your riding.
Key features
The MostPlus struts are equipped with all the extraordinary features that make your day-to-day life easier. This strut complete assembly comes with a sturdy top strut mount and high-class bearings. Also, it is easy to install.
A 2-pack complete MostPlus struts assembly is coming for the front side of the car. Front struts play a vital role in keeping the car going on the way. So, the front struts need to be strong enough. Surprisingly, MostPlus struts come with higher-ranking bearings, joint nuts, and bolts, and exact OEM specifications. The body of these struts is firmly attached with rubber to steel so that it provides superior performance.
Jounce bumper helps to protect the entire components from all the unnecessary damage. It is the safeguard of the struts and other suspension parts of the vehicle. It not only keeps the car from serious damage but also protects the car's wheels respectively. When the suspension bottoms out, it protects them from damage.
To keep the vehicles in the right position and balance the ride height, a superior coil spring has no alternative. It comes with rigid steel material to keep the height in the right position.
The upper spring seat helps to reduce vibration. If you feel unusual road sounds, you need to think about replacing old struts. It is unethical to ride in the noisy conditions. MostPlus front struts help to overcome these problems. Plus, this upper spring seat supports the weight of the car.
The exceptional feature of these front struts is they come with a dust boot panel. It helps to protect the struts. It also eliminates any kinds of dust and debris to extend the longevity of the struts and shock-absorbing.
The struts that are made by MostPlus are unique and of premium quality. It features seamless sleeves that help to contact well between the road and tires. This brand has made quality suspension parts over the years. They are well-known in the market for their quality products.
Lower spring isolators keep all the metal safe and secure. Plus, it prevents vibration and collision of metal-to-metal contact.
The strength
It comes with a superior-quality strut mount and jounce bumper.
With all the special tools and hardware, it is easy to install.
It provides excellent performance and industrial stability.
It is designed with a high silicon material to protect against metal fatigue.
It is tested with 100% quality inspection to ensure the utmost quality.
 Electrophoretic-coated design makes the struts anti-corrosive, anti-oxidant, and rustproof.
The weakness
You can't replace it if the OEM number does not match properly with your car.
Only 1-year limited warranty.
The installation process takes some time and it is slightly lengthy too.
Why would you choose MostPlus struts?
Well, MostPlus struts are unique and capable of handling bulk work. They provide sensational suspension parts for a long time. To make your ride more comfortable, you can replace it with Mostplus which will be great.
MostPlus struts use high-quality silicon that resists all the metal's fatigue.
The outside is coated with an electrophoretic function that increases performance and keeps the struts like new.
They provide quality and reliable suspension parts and make sure they work accurately.
Strong packaging with Corrugated paper helps to avoid uncertain damages during transport.
They also provide long-lasting and durable products all the time.
FAQs Of MostPlus Struts
What is the life expectancy of struts?
The average life expectancy of any kind of strut differs from strut to stratus. If you buy quality struts and you use your car roughly, then the struts will last for about 3 to 5 years. But if you use your car on occasion, it can last up to 8 years.
How are complete struts any good?
Struts and shocks or any other vehicle suspension parts largely help to avoid all kinds of road deformities. If your struts get old, you might see a different behavior in your car. You feel over bumps, less control over your ride, bouncy problems, and so on. All these problems will vanish if you change the old struts.
Conclusion
If you are looking for the best quality struts and shock absorbers, then choosing MostPlus struts and shocks will be a satisfying decision. In the whole article, you might see the details of the MostPlus struts review. And hopefully, all of you are enjoying this post and benefiting as well.
See also: