Are you looking for the ignition coils that lead you anywhere on the road? Then why do you look here and there where the DriveWire is on the list? Yes! driveWire is now becoming a popular choice for those who want more power when running their vehicles under extreme conditions.
If you want to know more about it for buying, this DriveWire ignition coil review will help you out. Undoubtedly, this ignition coil is a tremendous option that features everything you want in an ignition coil. From installation to quality, DriveWire is the best which in turn brings joy end of the day.
However, the features and benefits are exceptional compared to other average ignition coils on the market today. Can't make a choice? No worries. Look over the features to decide.
DriveWire Ignition Coils: In-depth Review (Features with Benefits)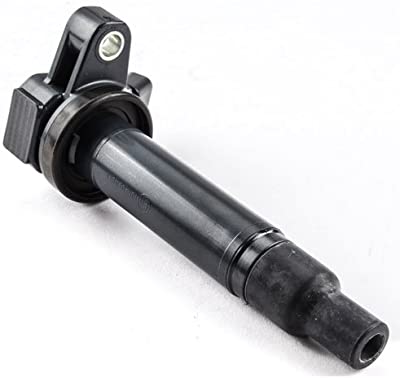 | | |
| --- | --- |
| Manufacturer  | DriveWire |
| Style  | Coil-on-plug (COP) design |
| Recommended use | OE Replacement |
| Quality  | Excellent |
| Installation  | Plug-and-play type installation process |
| Configuration | 3-Prong Blade Male Terminal and 1 Female Connector |
| Fitment | Direct fit |
| Voltage  | 12V |
| Costs  | Inexpensive |
| Warranty | Unlimited mileage with a 1-year warranty |
The DriveWire ignition coil is made to last. It uses premium-grade components with casing materials that help to resist uncertain high-voltage leaks and extreme temperatures. Anyway, here are some more features you should look for in a reliable purchase.
Best Value
In light of its quality, durability, efficiency, longevity, and other extraordinary features, the price is somewhat reasonable. With paying just under $30, you can make your ride enjoyable and extraordinary.
It's recommended to use it as an OE replacement. However, a 3-prong blade male terminal is used for attaching female spades and t-taps. Frequently, it is used when changing a specialty plug. Note that 1 female connector is also attached to this product.
High-quality
The primary and secondary copper coil windings work together to ensure extreme voltage. This is why spark plugs get optimum voltage the amount it needs for work. As a result, you experience hassle-free, constant, and reliable vehicle operation.
Versatile Use Or Application
DriveWire ignition coil comes to fit almost all Toyota makes and models. It is compatible with the 2001-2003 Toyota RAV4, 2001-2007 Toyota Highlander, 2002-2005 Toyota Camry2.4L 4-cylinder engine, and some Pontiac Vibe makes and models. Using it in different Toyota, Nissan, and other vehicles to increase the power when power shortage. 
Awesome and Effortless Fitting
Direct fit features allow it to fit almost any compatible vehicle effortlessly. As a result, you don't need to hire a professional to fit it right. OE direct fit guaranteed for integrated installation.
Plug-and-play Installation
OE specification's direct fit characteristic allow you to install like a pro within a very short time. You need to gather some necessary tools so that you can get the job done swiftly.
Also, ensure the engine and other parts are cool and sitting in position. As it is a direct fit with OE specification, you just need to take off the old one and replace it with this one.
Coil-on-plug Design
COP ort coil-on-plug design makes it worthy. Why? Because this design allows the ignition coils to be separated from the exhaust heat. This way the spark plug receives the expected voltage. With this benefit, you will notice reduced emissions while increasing horsepower.
Long-lasting
This coil is made to provide longer service. High-quality components and casing materials help to resist the leaking of the voltage and high temperatures. The seal-coated unit works as a protector against corrosion and moisture. These features indirectly tell that DriveWire coils are long-lasting.
Pros
OE direct fit products for fast and easy installation;
Excellent working capacity under extreme conditions (i.e. extreme temperatures);
Moisture and corrosion protector seal coating;
Lowest price guaranteed;
OES standard and proper ignition always;
Provide significant voltage to the spark plug for better ignition;
Smooth-rolling.
Cons
Related Questions:
Is DriveWire Ignition Coil an OEM?
Yes. The DriveWire ignition coil is an OEM-specified, direct-fit option. This is why you don't need to worry about its fitting. Remember that OEM ignition coils are engineered from sensational and premium-grade materials that last for a long time like the original.
This is an actual fit replacement part that doesn't demand modification. The most satisfying thing is that all OEM ignition coils come with a standard manufacturer warranty.
Do Upgraded Ignition Coils Improve Performance?
Needless to say, ignition coils improve performance drastically. Suppose, you have a 12-volt battery but need a thousand voltages. This is the area where the ignition coils work as a key player. It creates a hotter spark that helps to burn the air and fuel mixture.
So that can be said, coils make the difference. In short, it converts the low current into a higher current from the battery and ignites the fuel to start the engine.
When Should You Replace The Ignition Coils?
Sometimes during driving, you may notice power loss or hard start, right? It happens for various reasons, especially when the ignition coils are faulty. Also, you'll notice bad fuel economy, backfiring, engine misfire, and wired sounds. If you notice one of these issues, understand it is high time to replace the ignition coil.
How Do You Install DriveWire Ignition Coils?
Installing ignition coils, especially DriveWire coils is easy to install as it has direct fit availability. You need to collect the necessary materials and take safety measures. Then, take off the bad coils and install the DriveWire ignition coil.
Conclusion
Ignition coils are vital parts of your vehicle. So you should look over them every now and then. Without a functioning ignition coil, you can't get enough power when the engine needs it. In addition, bad ignition coils can't produce better sparks as they can't mix the air and fuel evenly. Most importantly, you notice performance issues.
However, if you've decided to replace your stock ignition coils with DriveWire OE-specified coils, you are good to go. The entire article is based on the DriveWire ignition coil review to help you know it better. Make sure you read the review carefully before purchasing. This ignition coil has a lot of excellent features and benefits that blow your mind.
See also: