The role of exhaust pipes in a car is undeniable whether it is to enhance beauty make noise or increase performance. Another name for the exhaust tip is the muffler tip. Interestingly, the beauty of the exhaust tip is greatly enhanced. But the question is do exhaust tips change the sound of your vehicles?
The simple answer is yes. It changes the sound at a little rate. It can be of different types depending on the exhaust pipe of your car. Depending on the size and type of tip it is connected to the car's tailpipes. What does the tailpipe do?  
It removes gases and other objects very easily. In other words, it plays an important role in changing the sound. This article discusses this in more detail which will help you to know more about exhaust tips.
The Overview of Exhaust Tips or Muffler Tips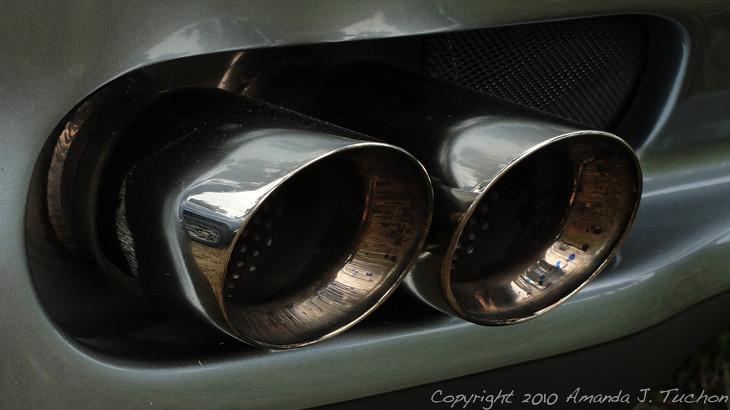 Another name for exhaust tips is muffler tips. It is attached to the end of the exhaust tailpipe, the part that is usually visible. It can be of different types.  Sometimes there may be one or two pipes.
However, it depends on the exhaust system of your car. If you have one pipe in your car exhaust system, it is advisable to have one tip and if you have two pipes then two are preferable. It easily releases gas in certain proportions without any risk.
As a significant feature of this work, it can be said that it makes a difference in noise. If you attach a new set of tips to your tailpipe, it will produce a strong sound. Several types of exhaust tips are now available.
Notable among them are round, square, intercooler, single wall, double wall, and rolled corner. It's not just about changing the sound of your system. Interestingly, this will greatly enhance the beauty of your exhaust system.
Related: Do Electric Cars Have Exhausts?
How to Change the Sound With Exhaust Tips
Depending on type and size exhaust tips change the loud by a small amount. Various types of exhaust tips make various sounds. However, their contribution to changing sounds is not unquestionable. They make a lot of difference as well. Here are some things to understand about how exhaust tips change sound.
Round Tips
1.5 to 4-inch round tips with a wide border and shape contribute a lot to making a decent amount of sound. After installing this type of tip, you will understand the difference.
But there is no debate about narrow and wide diameters. Both are sensational and play a significant role in producing a respectable amount of power and stronger sounds.
Single Wall
This tip consists of a single rounded metal that is thinner than double-wall tips.
Sad but true, single-wall exhaust tips play a little role in changing the sound. It is said that it does not change the sound at a significant rate. It just tells the stay to stay. It is rarely seen because it is so thin. But it is better if you have a single exhaust.
Double Walls
Needless to say, double tips will help increase power at a significant rate. As well as increasing power it can produce remarkable sound. Because of the two holes, the engine will be able to wash out easily.
This will increase horsepower. This will increase the efficiency of the engine and give the gift of smooth driving. So even if it costs a little more, try to install double wall tips.
Intercooled Tip
Improved and advanced Borla Polished Rustless Steel Exhaust Tip is among the most well-known and remarkable intercooler exhaust tips. If you want to hear soft and melodious words then this is not an option.
As a bonus, it will enhance the beauty of your car and the exhaust or tailpipe. Also, it cools and condenses exhaust gas, reduces backpressure, and produces melodious tones.
Which Exhaust Tips Are the Best?
The amount of noise that will make an exhaust tip depends on the size and shape of the tips. So, in this case, it is better to choose big tips in size. Square or wide tips will give sound at a rate that a narrow tip will never be able to.
A smaller exhaust tip is better if you have a small size and a single exhaust system. Unfortunately, a normal or small tip can produce raspy sounds and produce unwanted sounds. So it is not a wise decision to invest your valuable money to install a small tip.
Fortunately, there is a larger tip available to increase the horsepower of your engine and produce a soft, stronger, and hearty sound. So investing your money in the right place always gives you a more confident and smooth drive.
Benefits of Installing or Having New Exhaust Tips
There are lots of benefits to having exhaust tips in your car exhaust system. It can safely remove harmful gases without leaving any residue inside the pipe. It depends on the size and type of your tips to contribute.
Increase Engine Performance
Only the exhaust pipe can emit twice as much harmful gas as the exhaust tip at the same time. This will prevent the engine from overheating quickly and reduce the chances of harmful particles or gas getting stuck inside. As a result, the engine will be able to perform the correct function.
Change the Sound
Exhaust tips play a significant role in increasing the sound of your system. Notably, the larger tips increase engine horsepower as well as change sound. It is another heart-touching advantage of installing new exhaust tips.
Reduce the Drone
Drone means the car produces vibrating and incompatible sounds while driving at highway speeds. No one likes and wants this unwanted sound while driving. If your car has aftermarket exhaust systems, picking aftermarket tips is a wise option. Because aftermarket tips tremendously reduce the drone.
Enhance the Beauty
In addition to reducing engine performance, sound changes, and drones, it also enhances the beauty of vehicles and exhaust systems. If it is a chrome piston then there is no point.
Final Verdict
Exhaust tips are a really important consideration if you want to change the sound of your car. Everyone should know the answer to this question do exhaust tips change the sound literally? Because based on this one will be inspired to fit in with the exhaust pipe of his car. It does a lot of significant work as well as changing the sound so you can fit it into your exhaust pipe.