The key difference between Atlas Car Lift and Bendpak Car Lift is that- the latter can pull more weight than the former, which is critical when we are discussing equipment like car lifts. 
The car lift is essential if you have a small garage but many cars to hold. They lift one car above so that you can park another one underneath it. Car lift simply uses vertical space instead of horizontal space. This is a safe way to use all the potential spaces in your garage. Also, they can be used while repairing your car. 
Atlas and Bendpak are famous car lift brands in the automotive market, especially in the USA. They can hold a significant amount of weight and can be used in multilateral tasks. These two have fewer differences, which are discussed below so that you can choose the appropriate one. So let's see who is ahead.
Atlas Car Lift vs. Bendpak Car Lift: Comparison in a table
| | | |
| --- | --- | --- |
| Comparison | Atlas | Bendpak |
| Pictures |   |   |
| Weight capacity | 14000 to 18000 lbs | Up to 40000 lbs |
| Width | 141 inches | 137 inches |
| Height | 142 inches | 145 inches |
| Hydraulic power unit | Available | Available |
| Certification | ALI | ALI and ANSI |
| Cost | $ 2000 | $ 2500-3000 |
What is Atlas Car Lift?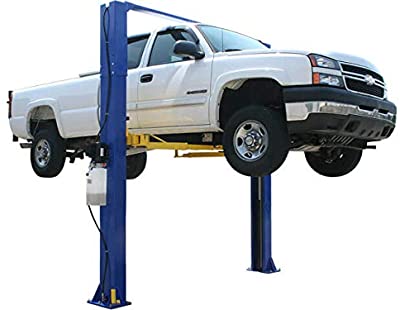 Distributed through the USA and Canada, Atlas is an ALI-certified car lifter. They are known for their varieties and reasonable prices. For standardized weighted cars or small cars, Atlas is the best option. They provide quality full products and delicate customer services. 
What is Bendpak Car Lift?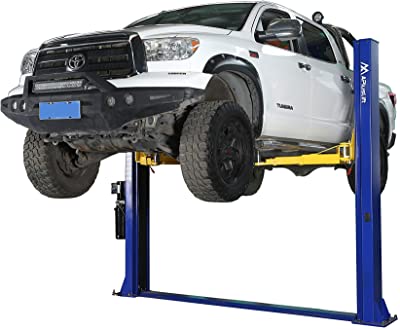 Bendpak is an automobile equipment manufacturing company based in the USA. They have one of the best car lifts in the region. The advanced craftsmanship of Bendpak led it to acquire both ALI and ANSI certificates. 
Atlas Vs Bendpak: Main Differences
We can measure the difference in three broad and critical categories: Weight-bearing capacity, Hydraulic power unit, and Oil requirements.
Weight Bearing Capacity
This is one of the vital features of a car lifter. As it elevates a heavy object above and holds another object below, therefore, a strong and stable structure is essential. Steel strength and stress tolerance are the measures through which we can understand a lifter's weight-holding capacity.  
For two post-Atlas lifts, it can hold up to 18000 lbs, perfect for a standardized car. The four-post lifts can hold 14000 lbs. Whereas, for Bendpak two post lifts can bear up to 18000 lbs and four post lifts can hold 40000 lbs. 
Clearly, the winner here is Bendpak. 
Important to know: The width range of Atlas is 141 inches and Bendpak has 137 inches. 
Read also: Top Picks: Best Complete Strut Assembly (Review) In 2023
Hydraulic Power Unit
The hydraulic power unit is the key supplier of energy for driving any motor, machine, or car lift. As car lifts elevate heavy things above it requires a huge amount of power boost. The unit has three crucial parts: The fluid reservoir, the pump, and the motor. 
Bendpak car lifts have more hydraulic power units than Atlas car lifts. Because they have 3.6 gallons of fuel reservoir, 280-230 voltage, and 3 HP motor. On the other hand, Atlas car lifts have 2.64 gallons of fuel reservoir, 2 HP motor, and 220 voltage, Which is not recommended while lifting cars that exceed 8000 to 10000 lbs. 
Oil Requirements
Car lifts need lubricant oil for effective and smoother performance. In-car lifts hydraulic oils can also be used, the oil has a high viscosity that shields the lifter from any damage or erosion. 
These two car lifts require different types of hydraulic oils. In cold weather Atlas needs AW-32 and for hotter weather, it needs both AW-32 and AW-46 oils. For Bendpak, you need non-foaming and non-detergent hydraulic oils. That is why Dexron-III AFT is the best option. However, in tropical regions, AW-46 can be used in the lift.
Minor Differences:
These causes might not seem important but they can matter when choosing any one of them:
Certifications
Any product's legitimacy is determined by its certification. The greater the number of certifications a product has, the more trustworthy it is. Atlas has only ALI certification, whereas Bendpak has both ALI and ANSI certifications. Bendpak now has another advantage.
Varieties
In this race, Atlas is ahead of Bendpak. They have something out of the box. Atlas car lifts have a variety of two posts, four-post, parking scissor, alignment, portable car lift, and their famous specialty lift. Bendpak has most of them except specialty lifts. The winner here is Atlas.
Cost: The Factor You Can Not Ignore
Cost is the most essential factor before purchasing any product. We want the best products within budget limitations. To inform you that car lifts are not cheap. Atlas car lift can cost you approximately 2000 US Dollars and Bendpak can cost approximately 2500 to 3000 dollars. 
As you already know the best products have a higher value as well as a higher price. We recommend you not only think about the price but also the services it will provide in the long term, in spite of their prices. 
Pros and Cons: Atlas Vs. Bendpak
No product is out of its pros and cons, here they include:
Pros
Atlas
Bendpak
-Provides more varieties
-Perfect for small cars
-Easy to maintain
-Can buy with a limited budget 
-Higher weight-bearing capacity
-Better hydraulic power unit
-Perfect for all cars
Cons
Atlas
Bendpak
-Less hydraulic power unit
-Comparatively less weight-holding capacity 
-Cost more Less Variety  
Final Verdict
For densely crowded districts or small garages, a car lift is a modern option. Not only that but elevating cars also helps with maintenance. Following the comparison of Atlas Car Lift vs. Bendpak Car Lift, we can easily choose Bendpak because of its better weight-bearing capacity, also ALI and ANSI accreditations.