Do you own a Ford F250/F350 truck? If so, have you ever given any thought to upgrading the shocks on your vehicle? If not, you may want to consider doing so, especially if you're looking for better ride quality and performance. If you're the owner of a Ford F250/F350, then you know that it's a workhorse. You need a suspension system that can stand up to whatever you put it through, and that's where Fox 2.0 shocks come in.
The Ford Super Duty is a tough vehicle, as its name suggests. With an average of 200K miles per truck and some models lasting up to 600k without issue if taken care of. Some have even reached 800k even more, these haulers are built for longevity.
It's often used in off-road and aggressive driving, so when you notice wear or tear on your suspension components it may be time for an upgrade with better shocks such as those offered by Fox 2.0 provide top performance at excellent prices, and last 50,000 + miles too.
Fox 2.0 Shock`s Features
Fox 2.0 Shock is a unique blend of technology and design to deliver the ultimate in ride comfort, control, and adjustability with added benefits for the f250 and f350. 
Monotube gas charged
The monotube gas charged with a 2-inch aluminum seamless alloy body makes this shock absorber more durable and reliable than the others. It also features a rebuildable design which means you can easily repair it if anything goes wrong, as well as being rechargeable through natural nitrogen inflations or by using certain equipment such as pumps that force air into its internals.
Race-proven damping control
The all-new Fox 2.0 is a tough and reliable vehicle that has been designed to handle any terrain. It's got race-proven damping control, which enables it to provide an on-road ride with predictability as well as off-roading abilities in even the most challenging terrains.
Uses precision metal
The durability of this product is unmatched, with its precision metal impact aluminum body increasing cooling capacity and never rusting.
Improved performance and durability
The IFP mono-tube design separates the shock oil from a high-pressure, nitrogen-charged gas chamber. This means less friction for increased performance and durability.
Improved ride quality
The high flow damping pistons in these shocks provide a great ride quality, but they're also able to handle even the roughest road conditions with predictable handling that is perfect for any type of terrain.
Easy to install
The quality of this kit is unmatched. All necessary washers, bushings, and nuts are included to make installation quick and easy. The factory shock mounting bolts will be reused for a secure fit that ensures no damage during transit or aftermarket upgrades have been made.
Warranty
Fox's one (1) year limited warranty ensures you get the most out of your equipment and prevents any defects from happening.
Fox 2.0 Shocks F250 Review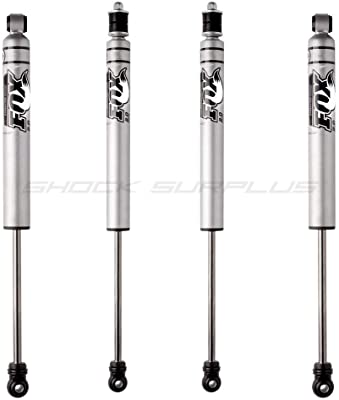 Check Latest Price
Fox 2.0 shocks are designed to be compatible with 2005-16 4WD models, and they offer a number of performance-enhancing features that will make your driving experience more enjoyable. With their custom valving and monotube design, FOX 2.0 PERF. IFP shocks provide superior damping and consistent handling under all conditions, making them a great choice for any avid driver. Plus, their black anodized finish adds style and sophistication to your vehicle's appearance.
Take your truck to the next level with FOX 2.0 PERF. IFP SHOCKS. These shocks are compatible with vehicles that have a 5.5-7″ front lift and 4-6″ rear lift and are perfect for anyone who wants to upgrade their ride quality. With a monotube-charged design and a 2-inch aluminum body, they are nitrogen gas-rechargeable and rebuildable, meaning they will last you for years to come.
Installation is a breeze, just reuse your factory shock mounting bolts and enjoy the improved performance of your truck.
Fox 2.0 Shocks are precision-crafted for a comfortable ride and predictable offroading handling in any condition with their race-proven damping control, and metal impact aluminum bodies that never rust, it has an IFP monotube design that separates the shock oil from a high-pressure nitrogen gas chamber.
The pros
Take your off-road adventures to the next level with these race-proven shocks. They offer an amazing ride quality that will have you feeling comfortable and confident no matter what road conditions throw at it.
The durable metal body is made from high-quality materials that never rust or get damaged by any, making it perfect for any environment.
Their race-proven performance valving technology is designed to give you the ultimate in vehicle control. The IFP mono-tube design separates your shock oil from high pressure, a nitrogen-charged gas chamber for better response and consistency across every turn.
The high-flow damping piston and race-developed valving provide you with predictability, while also handling the roughest road conditions like no other product on today's market can match.
You can purchase a pair of shock boots or roost shields separately.
The cons
Fox 2.0 shocks can make clunk sounds when they drop due to the high setting on their sensitivity.
Significantly higher than competitors, but it comes with a lot more features.
Fox 2.0 Shocks F250 Customers Review
Recently, we found three customers who have used this Fox 2.0 for f250/f350. Let's read their opinion on the product.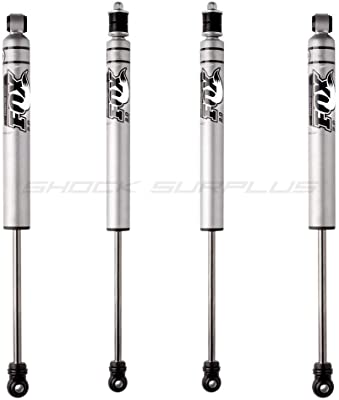 Check Latest Price
I've had the pleasure of owning an F250 for 10 years and recently bought Fox 2.0 shocks to make my ride more enjoyable. This Shock improved my ride handling greatly. It feels like they were worth every penny because now it handles so much better than before with these new adjustable-rate springs in place.

I'm happy to say putting them on has made me feel more confident while driving down unknown country roads at night or navigating tricky city traffic during rush hour morning commute times. Said by Paul R. Stone
I was really excited to upgrade my F350 shocks because I'm not experienced in installing new ones. But recently, after buying Fox 2.0 Shock for a truck and finding it easy enough that even someone without much experience can do it. My Off-Road drive has been more effective than ever. It's great knowing there are reliable products out there like this one from trusted brands such as Fox Racing. Said by Roussel
I'm not happy about the price of this shock. Recently, I bought a Fox 2.0 for my f250 but it ended up being a disappointment after installation because compared to other brands and models available in the market today with similar features it's too expensive. Pierce said.
Comparing Fox 2.0 Shocks With Key Competitors
Fox 2.0 shocks are best for their advanced features, but they're also up against some tough competitors with lots of similar traits that can withstand the pressure too.
Are Fox 2.0 shocks better than Bilstein 5100?
Fox 2.0 shocks offer a firmer and more responsive feel than Bilstein 5100, but they're not quite as good at handling high-speed bumps or drops on vehicles with lifted trucks above 4 inches in height.
It's important to consider the type of terrain you'll be driving over when purchasing new truck parts such as tires since this can have an impact on how well your ride handles certain conditions like potholes that might otherwise cause damage if not seen beforehand.
Are Fox 2.0 shocks better than Falcon 2.1?
Fox 2.0 and Falcon 2 .1 are similar shocks to Ford 250 and Ford 350, but when it comes to price Fox offers lower prices with the same features as the Falcon brand does, but if you need more off-road capabilities then go for a Falcon model.
Are Fox 2.0 shocks better than Bilstein 6112?
The Bilstein 6112 wins on the body and piston size which translates to better consistency, but the Fox 2.0 has an aluminum construction that is all-inclusive of its performance benefits like weight reduction or increased durability due to inner cartridge technology for smoother rides – so if you're looking for something more than just heavy-duty handling then this might be your best bet.
Check Latest Price
FAQ
Are Fox 2.0 shocks worth it?
Fox 2.0 shocks have an aluminum body that not only makes them lighter but also better at dissipating heat which means more efficient performance and longer life spans.
Are Fox 2.0 shocks soft?
The Fox 2.0 shocks are our most popular shocks because they're not too soft or stiff, just right. These days, drivers want something that will work well with their daily driver but also be able to tackle the trails on their next adventure out of town.
How many miles do Fox 2.0 shocks last?
Fox 2.0 shocks are the best investment you can make for your truck. The company recommends having them replaced every 50,000 miles (80,467 km) or 10k kilometers if on-road/ Off-Road use will be more mixed than most street driving in my case with F250 and F350.
Can Fox 2.0 shocks be mounted upside down?
The Fox 2.0 shocks can be mounted upside down for their monotube gas-charged and nitrogen-charged models, respectively.
Installing and Adjusting Fox 2.0 Shocks on F250 and F350
Fox 2.0 shocks come pre-installed with adjustments for air pressure and rebound, but if you want to make your own customizations or just do a little fine-tuning of the ride quality then there are some easy ways that can be done without having any professional help on hand.
For slower response times turn clockwise as it increases how quickly they bounce back after hitting something hard. This will give more stability during tough driving conditions where every gram counts towards keeping control over which direction matters most.
The adjustment range is 24 clicks out from a minimum of 12 maxes upfront, reducing speed accordingly according to preference.
Final Words
Fox 2.0 shocks for f250 are the most valuable shock and established with an off-road vehicle, especially Ford because they provide better handling when going on different terrains which are key in any type of driving situation including mountain roads or rough terrain where traction can be difficult to maintain without these awesome shocks.
You may have heard of them before, Fox Shocks can help provide a better handling experience while taking on these kinds of environments by allowing users more control over their ride height which enables better grip between tireless surfaces under your car's wheels.
I hope this Fox 2.0 shocks f250 review helps you in your decision-making process if it is indeed something that interests and suits all of those needs. Even though there are some cons with these shock absorbers (which we have had above), they still might be worth considering for someone who wants more control over their ride quality than what traditional mounts can offer.
See also